Spotted! A&W says this is the last straw(s)
The QSR's remaining 140,000 straws were used to send a positive message.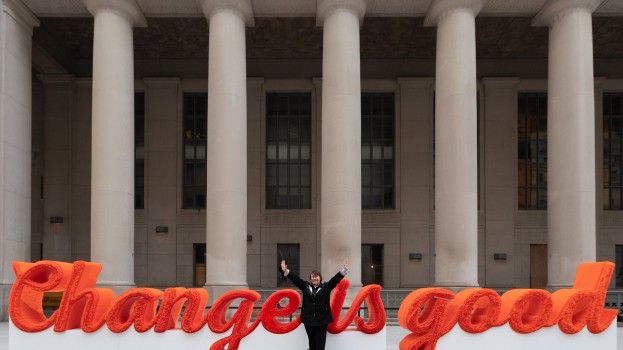 In mid-2018, QSR A&W pledged to eliminate its plastic straws by the end of the year. Now, with 2019 underway and its restaurants filled with alternative paper straws, what to do with the last few thousand plastic ones left over?
The chain's marketing team found a simple, yet bold solution: create art.
Since Jan. 7, a large typographic structure with the phrase "Change is Good" in A&W's iconic shade of orange has sat outside Union Station. The sculpture, which will be live until Jan. 13, is comprised entirely of straws – the last ones left in A&W's stores. The company calls it its literal "last straw" (or, more accurately, the last 140,000 straws).
A&W CEO Susan Senecal (pictured, centre) tells MiC the installation is a chance to demonstrate the company's "Change is Good" brand positioning in a way that is bold and highly visible. "We hope that the last of our plastic straws will inspire others and show that one small change can have a big impact. We all need to take action to reduce our environmental footprint."
(The elimination of plastic straws has been a popular trend as more QSRs and retailers strive for sustainable policies, but not one without controversy; Starbucks' move to cut out straws all together was met with backlash from disability advocates. However, A&W's move to replace plastic with paper straws has not drawn such criticism).
Straws aren't the only change A&W has made in the name of sustainability. Last year it also debuted the Beyond Meat Burger as a plant-based alternative to its famous burgers. It's also removed steroids from its beef products and implemented fair trade coffee in previous years.
Positioning at Union Station was a key part of the activation, said Senecal, with it being the busiest transportation hub in the country. The universality of the message – conveniently timed with the start of the new year – also helped.
For now, the activation is being promoted through social and PR. A&W worked mainly with Rethink on the strategy, and commissioned design firm TYGH on the installation.