Spotted! Taco Bell's cheesy OOH execution
Taco Bell kicks off 2019 with a splash (of cheese) with a new kind of interactive billboard.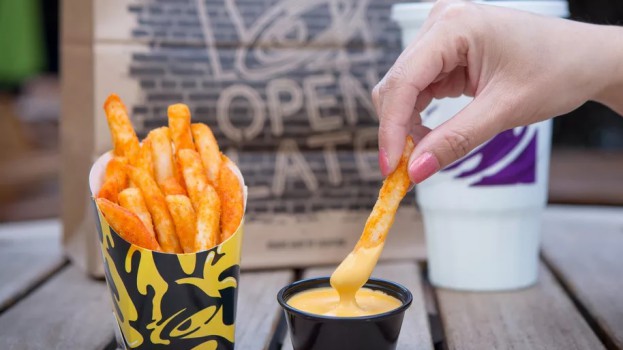 Not a company known for low-key product launches, Taco Bell recently hosted a one-day event to prove that everything is better with nacho cheese.
The experience was created to promote the return of Taco Bell's Naked Chicken Chalupa, which now comes with nacho cheese.  Fans who brought the limited-edition snack to the cheesy 10-foot tall billboard next to Taco Bell's flagship Queen West location were able to add the zesty flavour of warm, gooey nacho cheese. The one-day execution went live Jan. 19 for several hours during the midday.
The billboard is just one in a long line of Taco Bell's increasingly unconventional innovation. During the recent holiday season, the chain unveiled the CrunchWrapping Paper gift wrap. In the summer, it introduced the mobile Baja Blast Hair Salon for dying hair "Baja Blast blue." And, two years ago, it introduced the "SteakCation" contest through a partnership with Airbnb (stateside, it created a similar contest to stay at the Taco Bell Bacon Ranch ranch in Texas).
Nathan Maddock, marketing manager, Taco Bell Canada, says the QSR's main target group – Gen Z and younger millennials – want real-life brand experiences and have come to expect more off-the-wall executions from Taco Bell. Especially, he says, because there's often anticipation built up around what products are coming to Canada.
"I'm a marketing manager on a number of different brands and I've never seen a fan base as passionate as they are about Taco Bell. Because our U.S. partner restaurants tend to launch a lot more products, we have the luxury of often launching products we know our fans are waiting for. Our marketing calendar is built around what our fans are waiting for and what we know they're going to be passionate about before we even launch it. That makes it fun and every time we launch something their expectations get greater and greater."
OOH is typically a tactical medium for Taco Bell, one that it uses mainly to build awareness about specific locations. The cheesy billboard is part of a full campaign that includes TV and digital along with social media driving home the product and promotion of the event.  The partners behind the campaign are strategic and creative agency Grip, Edelman public relations, media agency Wavemaker and experiential company Rhoddy Marketing Group.
As to what's next for Taco Bell, Maddock says, "We're always launching innovative new products. What you can expect is more collaboration with the Cheetos brand. We're in the early stages of what that's going to look like. Whatever we do, you can expect us to continue to keep the consumer top of mind every time we launch a new product – and to continue to fuel this crazy cult for Taco Bell."