TVA Group ups two VPs
Denis Rozon is the new VP, productions, operations and technology and Anick Dubois is now VP, finance.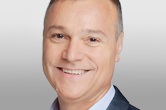 TVA Group has elevated long-time exec Denis Rozon (pictured) as its new VP, productions, operations and technology and appointed Anick Dubois as VP, finance.

Replacing outgoing TVA production VP Daniel Boudreau, Rozon will oversee all of the company's production, operation and technology sectors.
Rozon first joined TVA in 2006 as VP and CFO. In 2017, he also took on the title of COO of MELS in addition to his role as VP and CFO at TVA. In his new role, Rozon will continue to serve as COO of MELS.
Meanwhile, Dubois has been with the company since 2007, most recently serving as senior director, finance at TVA.
Both Rozon and Dubois start their new roles immediately.
The executive promotions come a week after the CRTC approved TVA Group's acquisition of Serdy Media's specialty channels Evasion and Zeste. All told, the $17.9 million transaction will result in a $1.7 million tangible benefits package split between the CMF, the Quebecor Fund and Telefilm's Talent Fund over the course of seven years. In a release, TVA Group welcomed the decision and said it expected the transaction to close within the next few weeks, once conditions set by the CRTC have been met.
Image of Rozon courtesy of TVA Group
Image: Shutterstock