Big Bang takes the top spot: Numeris
The CTV comedy has kept its viewership above three million for most of this season.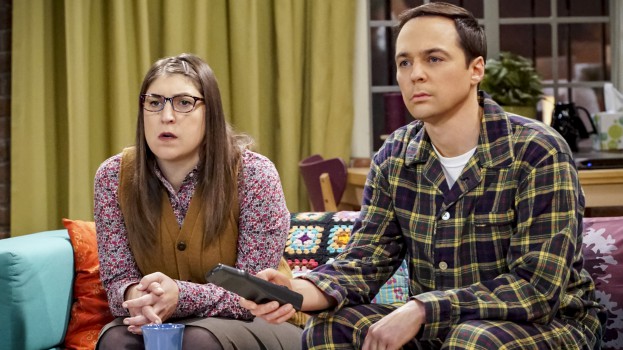 The Big Bang Theory was at its usual spot on top of Canadian TV ratings, according to the latest Numeris charts.
The report, which covers Jan. 14 to Jan. 20, shows that the CTV comedy generated the highest average minute audience (2+) of all single-night programs in Canada. It pulled in an average of 3.43 million viewers, keeping up its strong streak all season. Coming in second place was The Good Doctor, which has been inching closer to three million viewers with each week.
Rounding out the top-five nationally were Young Sheldon, the NFL Playoffs and New Amsterdam.
Although Big Bang took the national crown, regional champs varied. More Montrealers tuned into The Good Doctor, while Vancouverites tuned into football with more enthusiasm. In Quebec, Unité 9 on SRC took the spot with an average of 1.35 million viewers.
Canada (Anglophone)
1. The Big Bang Theory on CTV Thursday at 8 p.m.: 3.43 million viewers
2. The Good Doctor on CTV Monday at 10 p.m.: 2.79 million viewers
3. Young Sheldon on CTV Thursday at 8:31 p.m.: 2.62 million viewers
4. NFL Playoffs on CTV Sunday at 3:04 p.m.: 2.22 million viewers
5. New Amsterdam on Global Tuesday at 10 p.m.: 2.12 million viewers
Quebec (Francophone)
1. Unité 9 on SRC Tuesday at 8 p.m.: 1.35 million viewers
2. L'échappée on TVA Monday at 8 p.m.: 1.28 million viewers
3. Tout le monde en parle on SRC Sunday at 8 p.m.: 1.25 million viewers
4. Les pays d'en haut on SRC Monday at 9 p.m.: 1.17 million viewers
5. Les enfants de la télé on SRC Wednesdy at 8 p.m.: 1.15 million viewers
Montreal (Anglophone)
1. The Good Doctor on CTV Monday at 10 p.m.: 108,000 viewers
2. The Big Bang Theory on CTV Thursday at 8 p.m.: 99,000 viewers
3. NFL Playoffs on CTV Sunday at 3:04 p.m.: 95,000 viewers
4. CTV Evening News: Weekend Edition on Saturday at 6 p.m.: 88,000 viewers
5. Law & Order: SVU on CTV Thursday at 10 p.m.: 78,000 viewers
Toronto/Hamilton
1. The Big Bang Theory on CTV Thursday at 8 p.m.: 761,000 viewers
2. NFL Playoffs on CTV Sunday at 3:04 p.m.: 605,000 viewers
3. Young Sheldon on CTV Thursday at 8:31 p.m.: 530,000 viewers
4. The Good Doctor on CTV Monday at 10 p.m.: 507,000 viewers
5. New Amsterdam on Global Tuesday at 10 p.m.: 422,000 viewers
Edmonton
1. The Big Bang Theory on CTV Thursday at 9 p.m.: 141,000 viewers
2. The Good Doctor on CTV Monday at 8 p.m.: 103,000 viewers
3. The Rookie on CTV Tuesday at 8 p.m.: 102,000 viewers
4. Young Sheldon on CTV Thursday at 9:31 p.m.: 85,000 viewers
5. NFL Playoffs on CTV Sunday at 1:04 p.m.: 85,000 viewers
Calgary
1. The Big Bang Theory on CTV Thursday at 9 p.m.: 179,000 viewers
2. The Good Doctor on CTV Monday at 8 p.m.: 154,000 viewers
3. New Amsterdam on Global Tuesday at 8 p.m.: 134,000 viewers
4. Young Sheldon on CTV Thursday at 9:31 p.m.: 126,000 viewers
5. Flames vs. Red Wings on Sportsnet Friday at 7:10 p.m.: 121,000 viewers
Vancouver/Victoria
1. NFL Playoffs on CTV Saturday at 12:04 p.m.: 302,000 viewers
2. The Big Bang Theory on CTV Thursday at 8 p.m.: 254,000 viewers
3. Young Sheldon on CTV Thursdya at 8:31 p.m.: 207,000 viewers
4T. FBI on Global Tursday at 9 p.m.: 183,000 viewers
4T. New Amsterdam on Global Tuesday at 10 p.m.: 183,000 viewers