ICYMI: Reddit rolls out cost-per-click, Omni preps for Lunar New Year
Plus, Postmedia makes a change to its pension plans.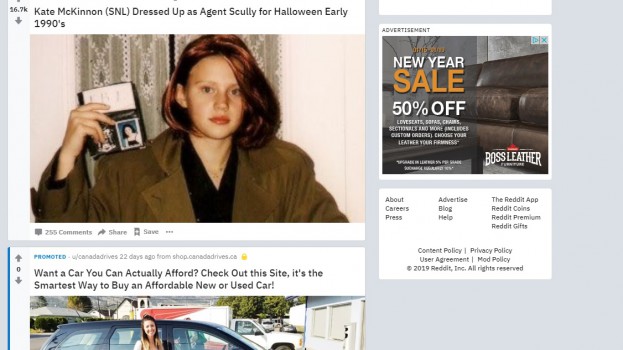 Reddit changes up its ad game
Social media and news aggregator site Reddit recently announced changes to its platform designs that would coincide with the launch of a new performance-based cost-per-click ad unit. These ads can be purchased through a client-facing dash board through a bid-type offering. While ads on the site were previously limited to side banner ads and single "promoted post" units at the top of each subreddit, the new ads, which will enable direct response campaigns for advertisers, will be delivered as Promoted Posts and links embedded throughout the Reddit feed. Early advertisers include Wayfair, Hired and Kabam.
Omni programs for the Year of the Pig
Rogers Media-owned multicultural network Omni has unveiled its lineup of Lunar New Year programming as it prepares to ring in the Year of the Pig on Feb. 10. Beginning Feb. 4, Omni's weekly schedule will include a number of Cantonese and Mandarin broadcasts, including Monday and Tuesday editions of Omni News in both Cantonese (8 p.m.) and Mandarin (9 p.m.). Feb. 4 will also include a Mandarin broadcast of Chit-Chat With Me (10 p.m.) and a special Greeting the Lunar New Year (10:45 p.m.). On Feb. 5, Into the Fulfillment of Life with Master Li Kui Ming will air at 10 p.m. On Feb. 10, Omni will air the Lunar New Year special Celebrating the Year of the Pig, with the Mandarin version airing at 6 p.m. and Catonese at 7 p.m. The broadcast will include traditional dances, cooking, fashion and music, including a performance by the Toronto Chinese Youth Orchestra.
Postmedia merges its pension plans
Media giant Postmedia has agreed to merge its pension plan with another: the College of Applied Arts and Technology pension plan. Effective July 1 (subject to approvals by the CAAT's board and several other bodies), the move will see six defined benefit plans merged, representing assets of more than $500 million. The CAAT plan has seen numerous high profile mergers in the last three years including the Royal Ontario Museum, the Youth Services Bureau of Ottawa and another major media company, Torstar Corp.