The Good Doctor takes the top: Numeris
Fellow medical drama New Amsterdam was not far behind.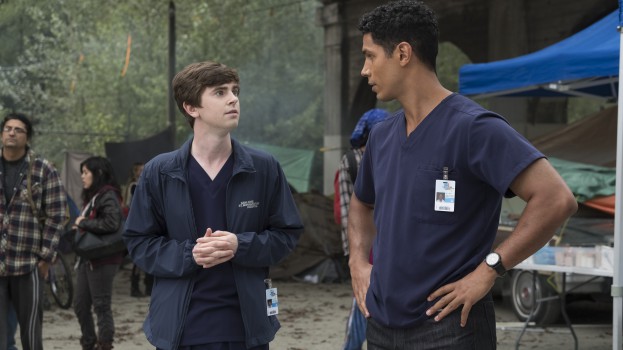 Medical dramas ruled the airwaves in the most recent Numeris report.
The report, which covered Jan. 21 to 27, showed that The Good Doctor on CTV pulled in 2.77 million average viewers (2+), beating out all other single-night programs. Not far behind was Global's own medical darling, New Amsterdam.

Rounding out the top-five were all CTV programs: The Conners, The Rookie and This is Us. The usual top finishers, The Big Bang Theory and Young Sheldon, did not broadcast for the week.
Regionally, The Good Doctor took most markets. For Quebec's Francophone viewers, Unité 9 on SRC maintained its position on top.
In terms of Canadian originals, CBC's new series Coroner had a milestone debut with 948,000 average viewers, making it the pubcaster's highest-rated premiere for a Canadian drama in four years.
Canada (Anglophone)
1. The Good Doctor on CTV Monday at 10 p.m.: 2.77 million viewers
2. New Amsterdam on Global Tuesday at 10 p.m.: 2.2 million viewers
3. The Conners on CTV Tuesday at 8 p.m.: 2.06 million viewers
4. The Rookie on CTV Tuesday at 10 p.m.: 1.9 million viewers
5. This is Us on CTV Tuesday at 9 p.m.: 1.66 million viewers
Quebec (Francophone)
1. Unité 9 on SRC Tuesday at 8 p.m.: 1.4 million viewers
2. L'échappée on TVA Monday at 8 p.m.: 1.23 million viewers
3T. Tout le monde en parle on SRC Sunday at 8 p.m.: 1.18 million viewers
3T. Les pays d'en haut on SRC Monday at 9 p.m.: 1.18 million viewers
5. O' on TVA Tuesday at 8 p.m.: 1.16 million viewers
Montreal (Anglophone)
1. The Good Doctor on CTV Monday at 10 p.m.: 123,000 viewers
2. This is Us on CTV Tuesday at 9 p.m.: 80,000 viewers
3. The Conners on CTV Tuesday at 8 p.m.: 77,000 viewers
4. The Rookie on CTV Tuesday at 10 p.m.: 73,000 viewers
5. The Big Bang Theory on CTV Thursday at 8 p.m.: 72,000 viewers
Toronto/Hamilton
1. The Good Doctor on CTV Monday at 10 p.m.: 551,000 viewers
2. New Amsterdam on Global Tuesday at 10 p.m.: 444,000 viewers
3. The Conners on CTV Tuesday at 8 p.m.: 382,000 viewers
4. This is Us on CTV Tuesday at 9 p.m.: 371,000 viewers
5. Leafs vs. Capitals on Sportsnet Wednesday at 7:40 p.m.: 336,000 viewers
Edmonton
1. The Curse of Oak Island on history Sunday at 10 p.m.: 110,000 viewers
2. The Good Doctor on CTV Monday at 8 p.m.: 105,000 viewers
3. The Rookie on CTV Tuesday at 8 p.m.: 85,000 viewers
4. New Amsterdam on Global Tuesday at 8 p.m.: 74,000 viewers
5. Criminal Minds on CTV Wednesday at 8 p.m.: 71,000 viewers
Calgary
1. Flames vs. Hurricanes on Sportsnet Tuesday at 7:11 p.m.: 138,000 viwers
2. The Good Doctor on CTV Monday at 8 p.m.: 125,000 viewers
3. New Amsterdam on Global Tuesday at 8 p.m.: 123,000 viewers
4. Bull on Global Monday at 8 p.m.: 98,000 viewers
5. The Rookie on CTV Tuesday at 8 p.m.: 96,000 viewers
Vancouver/Victoria
1. New Amsterdam on Global Tuesday at 10 p.m.: 168,000 viewers
2. America's Got Talent: The Champions on CTV2 Monday at 8 p.m.: 164,000 viewers
3. The Good Doctor on CTV Monday at 10 p.m.: 163,000 viewers
4. Coroner on CBC Monday at 9:01 p.m.: 152,000 viewers
5. Canucks vs. Hurricanes on Sportsnet Wednesday at 7:41 p.m.: 147,000 viewers