ICYMI: BuzzFeed Canada unionizing
Plus, BBC's Life Below Zero is coming to Canada and more.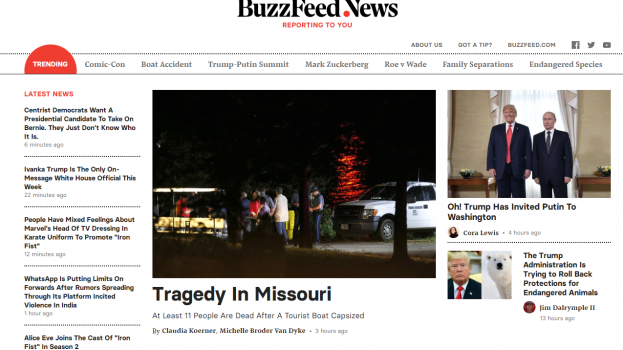 BuzzFeed Canada moves to unionize
Following a swath of layoffs at the global media company, the majority of staff at BuzzFeed Canada have signed union cards to join the Canadian Media Guild and effectively unionizing. In a Medium post detailing the reasoning and process for unionizing, the company outlined its issues: "Being isolated from the New York City mothership while working alongside it has had its issues. As revealed in the recent round of layoffs, there is a lack of uniform severance and communication standards across the company."
The post also expressed concerns about contract and freelance work, along with equal distribution of benefits within the company. BuzzFeed Canada currently has 10 employees, the majority of whom have signed union cards. Buzzfeed staffers in the U.S. and Germany have also moved to unionize. BuzzFeed Canada was largely spared from the wave of terminations three weeks ago, although at least one staffer from the Toronto office was let go.
Sportsnet unveils Spring Training lineup
The Blue Jays officially return to the airwaves on Feb. 23 with the opening of their Spring Training match-up against the Detroit Tigers. With that, the Jays also make their triumphant return to the Canadian (radio) airwaves. All pre-season games will be available on the Sportsnet Radio Network and on Sportsnet.ca. In total, 10 games will be televised on Sportsnet, Sportsnet One and Sportsnet Now. The first game broadcast on television will take place Feb. 25 at 1 p.m. ET (Toronto versus the New York Yankees).
A special exhibition match will be broadcast on March 23; the Jays will square off against Canada's National Junior team. The match will be broadcast on the Sportsnet Radio Network.
Life Below Zero coming to Canada
Blue Ant Media has licensed the format rights to BBC Studios' docu-series Life Below Zero in order to bring a Canadian version to the airwaves. Production is set to begin later this month and will be shot on location throughout Canada's northern regions. Life Below Zero: Canada is set to air on Blue Ant's Cottage Life channel sometime in 2020.
Global adjusts premiere for Ransom
Fans of the Canadian drama Ransom have eagerly been awaiting its third-season return. Now, they will have to wait slightly longer – one hour longer, to be exact. The premiere will now drop Feb. 16 at 9 p.m. as opposed to 8 p.m. Filling its spot will be an encore presentation of a previous episode of Mary Kills People. Ransom will settle into its permanent 8 p.m. spot on Saturdays starting Feb. 23.