Spotted! A magical dinner in a dome
To promote its new Platinum Card, Amex brought a pop-up resto to the heart of downtown Toronto.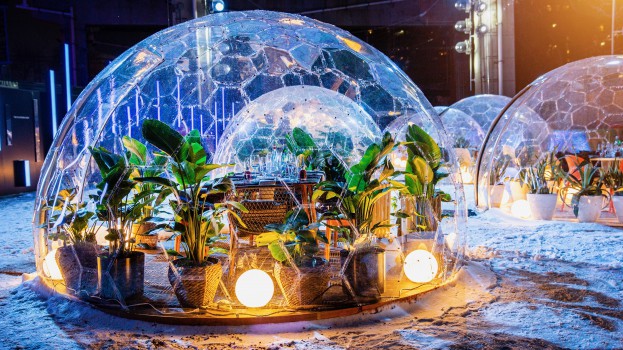 Toronto is no stranger to unique branded pop-ups. From Becel's truly plant-based restaurant to Delissio's trendy make-your-own pizza site, brands have increasingly used eye-catching temporary spaces to get their messaging across.
The latest special resto didn't actually come from a food brand – but Amex still promoted its new Platinum Card product through dinner with a view. In fact, the restaurant was called just that: Dinner With a View.
A pop-up dining event on Feb. 13 was curated by Top Chef Canada winner, Chef Rene Rodriguez, and hosted by model and influencer Coco Rocha. The venue for the one-night dinner under the stars was a group of clear, geodesic domes placed at The Bentway, a public space beneath Toronto's Gardiner Expressway.
Dinner With a View is in keeping with the Platinum Card's target audience – which Amex identifies as Canadians passionate about food, travel, entertainment and "exclusive experiences". A multi-channel campaign launches the card with connected TV, digital and social ads as well as more than 45 influencers telling stories about living the "Platinum Life."
The Platinum Card earns enhanced rates for new and existing card members with rewards focused on elevating their travel and lifestyle activities. This is not the first time Amex has created a pop-up restaurant themed after one of its cards; in 2017 it debuted Cobalt, a Kensington Market-based eatery to promote the use of its then-new Cobalt card, which provides rewards for food purchases.
The experiential component of Dinner With a View was put together by BT/A. Ogilvy Canada is the agency behind the creative, while UM Canada placed the media, Notch Video handled the social content and North Strategic took charge of PR and the influencer piece of the campaign.
Dinner With a View will return to Toronto for a month starting March 28 and is set to pop up in Montreal for a month beginning April 16. Reservations are available online for three sittings each day, three days a week.