The risk, the grey areas and the blame: Brand safety in 2019
IAB Canada's annual event focused on who's responsible for preventing (and cleaning up) the mess.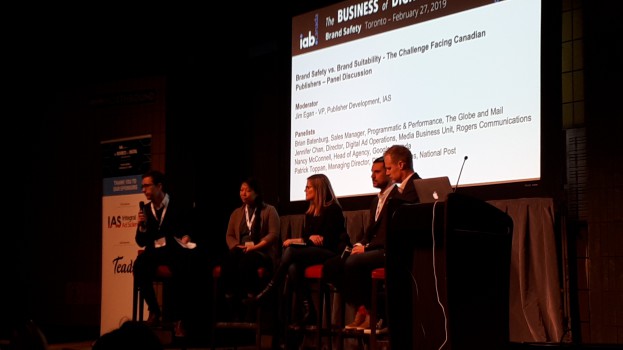 Brand safety issues might be a lot like U.S. Supreme Court Justice Potter Stewart's 1964 description of obscenity: one might not be able to identify it apropos of nothing, but they know it when they see it.
Brand safety was the focus of the Interactive Advertising Bureau of Canada's (IAB) latest "Business of Digital" seminar, held Feb. 27 in Toronto.
It's been a hot-button issue for the last two years, and the dialogue shows no signs of slowing down. According to IAB's recent member survey, 44% consider brand safety "very serious." And 47% of respondents said brand safety was an issue in the past six months, with video sharing sites posing the biggest brand risk. Sonia Carreno, president, IAB Canada, told the assembled that "preventive measures are working – when employed" and likened brand safety considerations to "mowing the lawn," an ongoing, and never-ending concern for brands.
Here's what the crowd took away:
Who takes responsibility?
Panelists debated who was primarily at fault when a calamity occurs – the client, or big social sites like Google or Facebook?
Jennifer Chan, director, digital ad operations, media business unit for Rogers, used a helmet analogy when it comes to brand safety: if your helmet does not fit properly, it won't provide protection. Clients need to be specific, rather than simply devising black lists or white lists of disapproved or approved content.
Tech panelists weighed in that ultimately, technology is not a blanket solution for brand safety. Jason Furlano, VP of sales, MiQ, says there's often "a lack of direction from agency partners." RJ Pauloski, VP of sales and business development, Teads Canada, a company that offers an inRead video ad unit that sits within content on publisher's sites, estimates that "80% of brand safety can be saved by human stuff."
The efforts being taken by the human side of the safety net are being stepped up, but are also not a 100% guarantee.
In response to heightened sensitivities regarding trolling and bad behaviour, speakers from media outlets outlined comment policy changes. Patrick Toppan, managing director, digital operations at the National Post, said that these measures are to "maintain journalistic integrity…while catering to the sensitivities of clients."
On the big digital platform front, Nancy McConnell, head of agency for Google Canada, insists "there will always be risk on YouTube," even if it is less than 1%. McConnell says it is "a ton of work to remove inappropriate content," adding that 400 hours of user-generated content is uploaded to the site per minute.
Mindshare MD Caroline Breton, speaking on the "Strategies for Buying Safe Media" panel said when it comes to brand safety, "even a 1% risk is too much", and The Media Kitchen's Jodi Peacock agreed, saying that "Google has to catch the bad guys better."
UM's VP Digital Erica Kokiw says that their organization ensures "all clients have a brand safety playbook in place" and advocates a proactive method to policing brand safety, rather than a "Whack-A-Mole" approach once a brand has already been compromised. She says that it's vital to talk to clients about their risk tolerance when it comes to ad adjacency for stories about homelessness, famine, terrorism, divisive politics, or other incendiary issues. According to Kokiw, "it's all about building bespoke plans with clients."
There's also the impact of false positives, designating a term as "unsafe" by being overly broad with content keyword definitions (the example of "shooting" was used: acceptable in the phrase, "The Leafs are shooting for their fourth straight win," but not with respect to a shooting resulting in death).  The media agency panelists say that brands who advertise on news sites need to accept the risk associated with potential controversial, or negative stories.
After all, it's the price paid for appearing in quality, premium content, and advertisers should celebrate and own the fact that they are on established, respected media platforms like The Globe and Mail or National Post.