Spotted! A video store promotion for a blockbuster film
Captain Marvel is getting a '90s-inspired scavenger hunt promotion.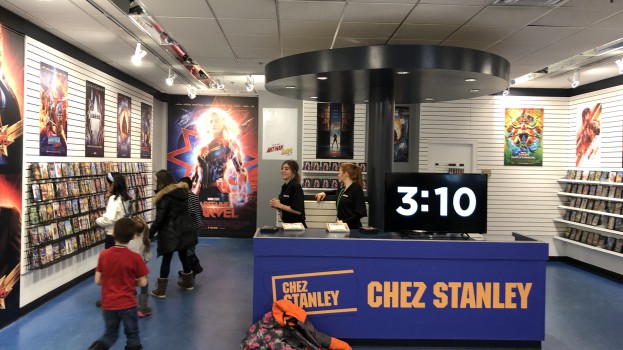 When you think about the 1990s, what comes to mind first? The Spice Girls? Fanny packs? How about taking a trip in the family minivan down to the video store – perusing the aisles and taking your time picking out the perfect VHS (and eventually, DVD) to take home for the weekend?
That's the kind of nostalgia Walt Disney Pictures Canada capitalized on for an experiential promotion for its new release, Captain Marvel.
Captain Marvel tells the origin story of the titular character, played by Oscar-winner Brie Larson. With the story taking place in the '90s, Disney decided to give Torontonians a totally '90s-themed activation: a downtown pop-up modelled after a certain iconic movie rental chain that fizzled out in the late aughts.
While there are a few posters of Captain Marvel herself in the windows, its easy to mistake the "Stanley Video" store for the real thing. Nestled in the heart of downtown Queen Street, one peek through Stanley Video's windows reveals enough classic disks, tapes and snacks to make a '90s kid's heart grow three sizes.
(The name of the establishment, "Stanley Video," is of course a nod to comic book icon Stan Lee. Lee, who died in late 2018, was known for his frequent cameos in Marvel films and will make his final cameo in Captain Marvel).
Inside, fans have an opportunity to go on a scavenger hunt inspired by classic movie trivia. Greg Mason, VP of marketing for Walt Disney Studios Canada, tells MiC this opens the activation up to not just Marvel fans, but movie fans in general.
"You have to solve clues, and some of them are Marvel-related, but some are Disney in general. You have to figure out what the film is, then find it." The whole game takes five to seven minutes, and Mason describes the activation as "almost a reverse escape room."
While Disney has engaged in some paid social to promote the activation, he says it didn't want to overwhelm Torontonians with ads, as he believes the surprise element is what will truly sell it.
It's naturally part of an effort to drum up support and excitement for Captain Marvel, which Mason says is sure to resonate with audiences because of its action sequences and strong female lead (Larson won her Oscar for her performance in Room, which was shot in Toronto). Some, like the New York Times, have pondered if the film can "fix Marvel's women problem," as the entertainment company has received past criticism for not developing films that emphasize its numerous female characters. The film was also subject to "review bombing" on Rotten Tomatoes – where fans upset with movies being led by women and people of colour post numerous negative reviews to lower its rating, despite having not yet seen the movie – which prompted the review aggregator site to change its policies.
But Mason thinks that this activation will bring about positive feelings for the movie.
It's designed to tug at the heartstrings of nostalgia-loving millennials, he says. "Sometimes it's nice to go back in history. For those of us who grew up in and loved the 90′s, going to the video store was the experience of the weekend."
The activation launched yesterday with a media event and will stretch throughout the end of the weekend.