Verizon Media launches new mobile ad formats
Shoppability, interactivity and side scrolling will all be part of an effort to drive conversions and clicks.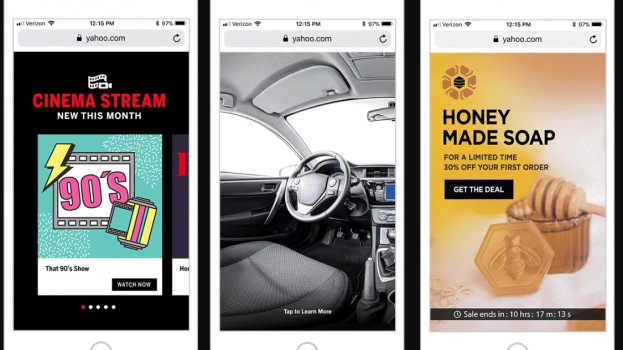 Verizon Media has expanded its offerings for native mobile ad formats.
According to stats cited by eMarketer, spend on native advertising now makes up 60% of total digital ad spend, a 10% rise year-over year. Now, the telco-owned media company, which also owns properties such as HuffPost and Yahoo, has launched six new ad formats.
The new formats are: Carousel, Panorama, Dynamic Product Ads and countdown. It will also add specific ad features Touchpoints and Playable, which are unique to e-commerce and gaming ads, respectively.
Carousel will allow advertisers to generate instant carousel ads, which feature multiple products or content cards. For example, a video streamer that embeds a native ad can allow users to scroll horizontally through a collection of videos.
Panorama also plays on the horizontal scrolling feature. Users can move their phone around a space or manually move the ad with their fingertips, giving them a 360-degree view of an ad's image (such as the interior of a car).
Dynamic Ad Products will allow brands to target users who have already shown interest in products, serving them a full-screen carousel ad and bringing them back to their shopping carts.
Countdown will give full-screen ads a timer, which Verizon says is to "increase urgency and conversion." This is handy for flash sales and daily deals, says Verizon. In testing the ads, Verizon says advertisers saw a click-through-rate lift of 170 to 290%.
Touchpoints will allow brands to create shoppable ads that let users learn more about ads by tapping on pins. Verizon says test advertisers have seen a 23% lift in return on ad spend when using the new feature. Playable, meanwhile, will allow users who experience an ad for a game to experience an interactive preview, playing a small portion of the game without having to install. The goal, according to Verizon, is to "encourage high-intent users to engage with the content."
These launches come off the success of the launch of its Moments format, which Verizon says has run more than 800 campaigns since its launch in 2018.