Spotted! Twitter users battle for the iron throne in OOH
A real-time campaign from HBO and Twitter dominated Yonge-Dundas square, with Game of Thrones fans sharing their predictions.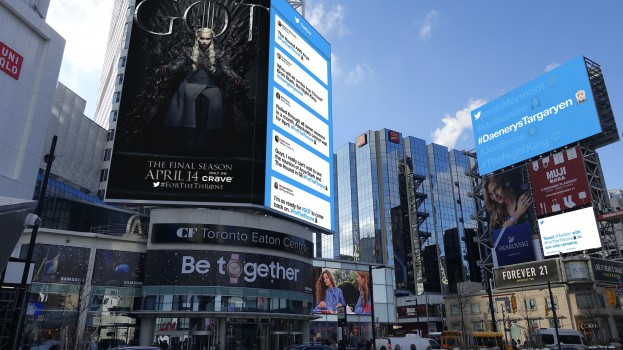 By Daina Goldfinger
The wait to see who will take the iron throne is almost over, and last week HBO and Twitter launched an out-of-home campaign in Toronto's Yonge-Dundas square, leading up to Game of Thrones' final season premiere on April 14.
The day-long campaign, which was both to promote the show premiere and also Twitter as a discussion platform, took over three digital billboards in Toronto. Tweets that included the #ForTheThrone hashtag were displayed on-screen in real-time. The campaign was accompanied by the launch of 20 new emojis on Twitter (one for each Game of Thrones character that has a shot at winning the iron throne). The campaign and media buy was a co-branded effort between Twitter and HBO.
"Game of Thrones is one of the most talked about television shows of all time on Twitter," Laura Pearce, head of consumer marketing at Twitter Canada, tells MiC. "This is the perfect way for us to show people how the conversation is evolving on the outdoor boards and then also to draw people in on the platform."
The campaign also took place in New York City and London, and was executed in partnership with data analytics and digital signage company Dive Networks, which facilitated the media buy and delivered the real-time feed on the boards.
"It really is about getting people onto Twitter and sharing their predictions for the end of the series," Pearce adds. "It's really very focused on engagement and conversation."
During the first five minutes of every hour, the Game of Thrones character that garners the most amount of Tweets appears on-screen, followed by a rotation of the others. The custom emojis will be available on Twitter until the end of Game of Thrones' final season, which lasts six episodes.
Two years ago, Twitter and McDonald's Canada executed a similar out-of-home campaign in Yonge-Dundas Square. The campaign was meant to promote McDonald's new all-day breakfast and to attract users to Twitter.