Spotted! Taco Bell serves sliders to sliders
The QSR went for a fast-paced experience to promote its limited-time menu item to Gen Z.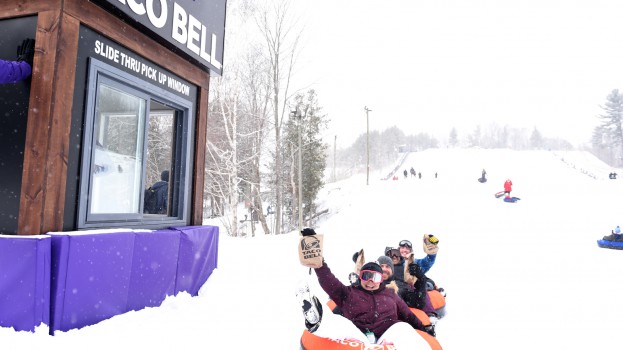 Taco Bell took to the hills of Horseshoe Resort, Barrie on March 2 to promote the revival of Cheetos Crunchwrap Sliders — with a literal sliding drive-through.
Staged on the tubing hill, the event featured what Taco Bell claims is the world's first "slide-through" window. Tubers simply had to place their orders at the top of the hill, make their run and then pick up the orders from the custom-built take-out window at the bottom.
The Taco Bell pop-up slide-thru served Cheetos Crunchwrap Sliders to more than 100 tubers from 11:30am to 2:30pm on a first-come, first-serve basis. The promotion served to promote the popular wraps, which are once again available in Canada for a limited time only. The products are a Canadian exclusive.
The slide-thru is the latest in Taco Bell's run of offbeat OOH and experiential executions designed to tap into its Gen Z and young millennial target. In January, Taco Bell created a nacho cheese-dispensing billboard in downtown Toronto. During the holiday season, CrunchWrapping Paper gift-wrap was the highlight. Last summer, Taco Bell's mobile Baja Blast hair salon dyed fans' hair "Baja Blast blue". Taco Bell is also driving fans to its website, encouraging them to keep an eye peeled for future event teasers.
The Horseshoe Resort event was promoted with an integrated PR campaign and media buy across traditional  and social channels. The Cheetos Crunchwrap Slider is also featured in a TV campaign. Grip Limited, Taco Bell's creative agency, managed the execution and activation of the slide-thru. Yum Brands AOR Wavemaker handled media buys for the QSR and Edelman led the charge of public relations.