Corby expands on TTC relationship for St. Paddy's
Jameson will now partner with adjacent bars along the route to promote safe rides – and the spirit itself.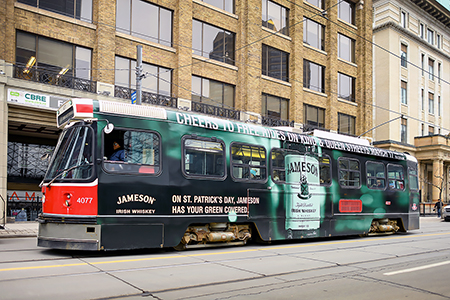 Corby Wine & Spirits brand Jameson will once again play a big part in many Torontonians' experience of St. Patrick's Day. And not just in terms of their drinks.
The Irish whiskey brand will sponsor free rides on the TTC throughout the day along the King and Queen streetcar routes. The sponsored rides will be available from 4 p.m. to 2:30 a.m. the day of the celebrations.
The media buy promoting the sponsorship has already begun; earlier this week, the TTC rolled out a number of new and classic wrapped streetcars promoting the whiskey, as well as the free rides initiative.
Jameson sponsored free rides on the TTC last St. Paddy's Day as well, pairing with Canadian indie rock band Hollerado to offer a surprise rock concert on key routes mid-evening. This year, while there won't be any impromptu shows, Jameson is extending the scale of the activation by partnering with 10 different bars along the King and Queen routes. Bars, including Grace O'Malley's, Belfast Love, the Dakota Tavern, and Death and Taxes, will promote the initiative as well as Jameson by offering the signature Jameson, Ginger and Lime cocktail.
Corby has a long history of partnering with the TTC for safe-ride initiatives; for six years it's also sponsored free rides home on the TTC on New Year's Eve. According to a rep for Corby, the alcohol company dealt directly with the TTC to broker the sponsorship.