Inside Brita's skippable, shoppable 'walkumentary' ad
Brita is rolling out a four-hour pre-roll ad to pay tribute to those who 'can't skip the walk.'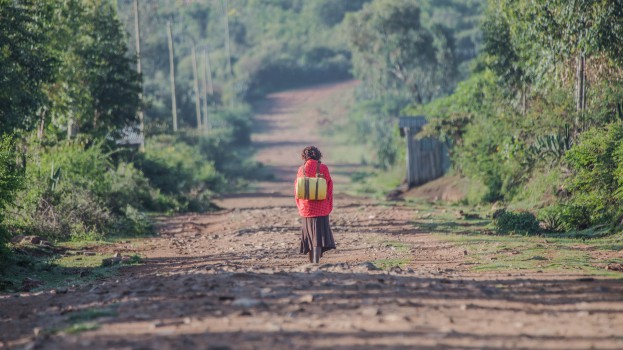 In a world where six-second pre-roll ads are the norm, Brita Canada is shaking things up with a unique four-and-a-half-hour YouTube pre-roll ad buy as part of its latest cause marketing campaign. The ad, billed as a "walkumentary," documents the entire round-trip walk that a Kenyan woman must make to reach a river to get a jug of water for her family.
The twist is that viewers are prompted to "end her walk" by clicking a link to Walmart's e-commerce site where they can buy FilterForGood bottles. Every purchase of Brita bottles, filters and pitchers provides clean water for a year to a person in Kenya.
To launch the "walkumentary", media were invited to view part of it while walking on a treadmill at the WE Global Learning Centre as a way to put the long walk into perspective. It's all part of Brita's longstanding partnership with ME to WE to raise awareness of the fact that one in 10 people in the world lack access to clean water. In addition, the purchases of specially marked Brita products also help to fund the drilling of wells in Kenyan villages. So far, the program has provided over 55,400 people with clean water.
The video was created in the hope that the novelty of a four-and-a-half-hour pre-roll would help increase awareness of the issue.
Carolyn Hungate, Brita's marketing director, says, "It can be a challenge to make the issue resonate with the average Canadian who's never too far from a faucet…  The core message is, as a viewer, you can skip the video, but these women can't skip the walk."
The "walkumentary" is being promoted through social channels, YouTube and PR to help consumers understand the issue and let them know how their small choice to make a purchase can have a big impact.
The media was purchased by OMD with PR from Devon Consulting, while DentsuBos handled creative.
Brita continues to promote its clean water mission throughout the year with in-store marketing executions that highlight products with "Track Your Impact" stickers. Consumers can go online using that sticker to see a view of the village and the person they're helping through their Brita purchase.