Dove taps OOH to expand paternity campaign
The new phase of the cause marketing campaign debuted after new legislation came into effect.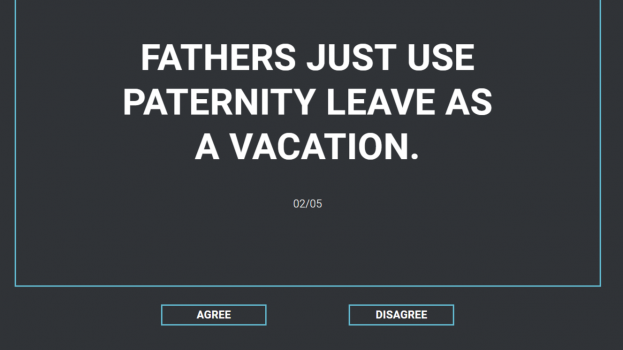 Dove Men+Care's latest campaign continues on its mission to spread the word about men's issues. Its new campaign, which is designed to help dispel the stigma around paternity leave, is an expansion of the multi-year initiative the Unilever brand first launched last June. Now, a broader media buy incorporating digital, social and OOH is bringing that message to the masses.
Leslie Golts, marketing lead at Unilever, Dove Brand & Skin Cleansing, tells MiC that although this has been part of the brand's positioning since 2010, the new buy is timely. "When the new legislation on parental leave came into effect, we wanted to encourage more Canadians to have an honest conversation about the stereotypes that exist around paternity leave so we can help more men feel good about it."
The new campaign targets all Canadians with Twitter and Facebook ads, billboards, and interactive kiosks at Union Station, Yonge & Eglinton Centre, Fairview Mall and the Scotiabank Arena. Using actual online comments about paternity leave, the ads also have an interactive piece that encourages people to select whether they agree or disagree with statements such as "Dads don't need to bond, Bonding is for weekends, Pay for a nanny, Dads can't breastfeed" and "Fathers just use paternity leave as a vacation."
Mindshare handled the media buy, while Edelman took care of PR and Ogilvy spearheaded creative.
Research around the globe shows that bonding between father and child has a positive impact on both the mental and physical health of parents and child but even with the new policy, most Canadian fathers still won't take paternity leave. Dove research found that although the majority of Canadian men (73%) support equal parental leave for both parents, they are afraid that taking time off will negatively impact their finances (75%) and relationships with their managers at work (51%).
The Dove campaign started March 18, the day after the new Parental Sharing Benefit legislation took effect, and continues until the end of the month. Dove's efforts supporting this issue will continue throughout the year and results of the interactive polling will be released.