Did CBC's social-heavy Junos strategy pay off?
CBC and CARAS took an integrated, cross-platform approach to the annual awards show, netting a high of 1.3 million viewers and some social-media wins.
The CBC has confirmed that audiences for the Juno Awards dropped in its overnight ratings.
The annual awards show, which aired March 17, had its average audience drop by 12.7% to 1.1 million, down from an average audience of 1.26 million last year. That's according to overnight data from Numeris.
The audience peaked this year with 1.3 million viewers, when Sting and David Foster presented the R&B/Soul Recording of the Year to Jessie Reyez. That's a drop of 13.3% from last year when the audience peaked at 1.5 million viewers when Barenaked Ladies and Steven Page were inducted into the Canadian Music Hall of Fame. This year's average audience was 1.2 million across television, radio and online platforms, a drop of 14.3% from last year, which had an average audience of 1.4 million across all platforms.
But CBC still views the overall performance of the award show, which aired amidst St. Patrick's Day celebrations across the country, as a success. A highlight for the pubcaster was its social strategy. Through new initiatives, it was able to provide Canadians with access to spaces they usually wouldn't get to see live, such as backstage.
"Instagram just blew up for us, there were a ton of Stories that we ran [and] artists were totally engaged," Andres Mendoza, the VP of CARAS (Canadian Academy of Recording Arts And Sciences )/The Juno Awards told MiC. "We had much more behind-the-scenes content, things that people normally don't get to see. There was a moment with David Foster hugging Jessie Reyez with Sting looking on and smiling and many others like this that our team captured."
One video showing the red carpet in the lead-up to the televised CBC broadcast on Sunday that was specifically created for Instagram Stories snagged 114,000 views, according to the VP. And a live stream on Twitter saw almost four times the lift in overall viewership of the event compared to last year (which was the social platform's first year partnering with the Junos).
The awards have also been streamed by 260,000 live and on-demand viewers to date on the CBC Gem streaming service, CBC Music's Facebook, YouTube and Twitter channels and the CBC website. The streaming viewership rose 14% from 230,000 in 2018, notes the CBC.
While there are promotional efforts year-round, the big push leading up the televised show started in late January when singing superstar Sarah McLachlan was announced as host. There was "a lot of OOH  concentrated in Toronto, London and Vancouver areas," online promotion across all of CBC's properties,  as well as national and U.S. cable spots, social (Facebook, Twitter, Instagram, YouTube) and some programmatic, according to Maya Kane, director of marketing for news, audio, documentary and arts at CBC.
A 30-second video, playing McLachlan's 1997 hit Angel, was a tongue-in-cheek nod to the singer's ASPCA (American Society for the Prevention of Cruelty to Animals) ads. The video, posted on Twitter with the text: "The 2019 version of Sarah McLachlan's sad dog commercial" followed by two crying emojis, garnered close to 13,000 views on that social platform.
"This was sort of bringing in a lighter touch to it inviting Canadians in to what was a fun moment," says  Kane, explaining the video was created to reach a wide number of people and to encourage engagement.
TV awards shows in decline
Televised awards shows in general, and music awards shows in particular, have seen ratings drop for years as viewing habits shift. This year the Grammy Awards viewership in Canada on Citytv fell 17% to an average audience of 1.65 million.
The Juno Awards show returned to the national broadcaster in 2018 after 15 years of being broadcast on CTV. The private broadcaster, and one of CBC's main rivals, saw a drop in average audience, from 1.4 million in 2016 to 1.2 million Canadians watching the show live in 2017, with another 278,000 watching the repeat at midnight, according to Numeris numbers from Bell Media.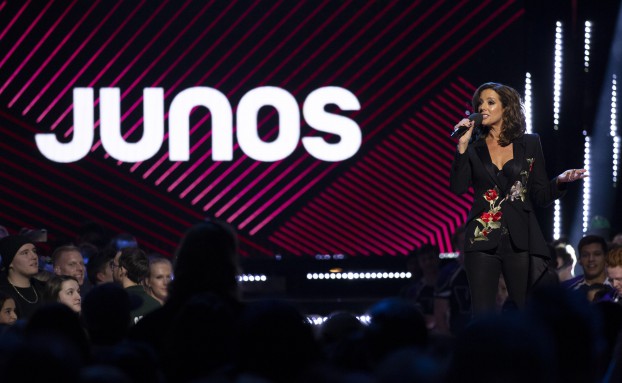 Offering brand partners integrated, cross-platform opps
The non-profit CARAS/The Juno Awards worked very closely with marketers from the national public broadcaster to ensure an integrated, cross-platform approach for brands leading up to the big show featuring host McLachlan.
TD Bank has been a sponsor of the Junos, which includes the televised show as well as a week-long string of events leading up to the televised show, since 2012. This year, the bank had full integration into the televised broadcast, as well as setting up a branded green room where activations were held during Juno weekend. A full content studio dubbed TD Session Space was also set up  to capture in-the-moment content the brand can use all year-round on its online and social platforms, notes Mendoza.
Apple Music returned as a sponsor for the second year running and also took a multi-platform approach, with a focus on creating content that could be shared on social media. The tech company built a big version of its music note logo so Juno attendees could pose with it and then post the photos online, says Mendoza.
Different concepts
Another viewership high came when 1.151 million watched Corey Hart accept the Canadian Music Hall of Fame Award. While Hart skyrocketed to fame in 1984 for his hit "Sunglasses at Night," a few younger famous Canadian musicians did not make the trip to London, Ont., for the televised ceremony.  A noticeable absence this year was Toronto-born, Drake. His record-smashing album, Scorpion, was MIA from the awards due to a long-running beef between the artist and the Junos.
Many factors go into the event, with the location, host and performers changing every year. Last year the Junos were held in a bigger market, Vancouver, versus London, Ont., and were hosted by hometown boy Michael Bublé. The Junos return to Saskatoon in March 2020, the Saskatchewan city previously hosted the music event back in 2007.
"There has been a drop in awards shows overall, but we are extremely happy with the results that we got. It's quite incredible the amount of people who have tuned in and again we've repeated this – it's not just about that day," says Kane. "It's about the engagement. It's about us being on the ground in the community, it's about engaging in different content throughout the year and the lead-up to and the post… But in terms of all the numbers we're really pleased with them."