TSN 1040 revamps radio lineup
As its main market competition Sportsnet 650 gains ground, the Bell Media-owned station is changing things up to stay ahead of trends.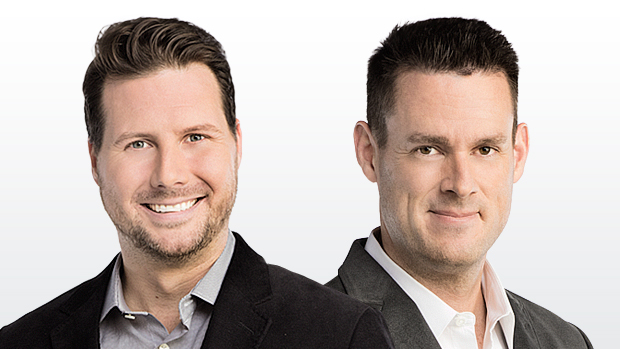 It's been a little over a year since TSN Radio lost its monopoly on the Vancouver market for sports radio.
According to the latest Numeris PPM report, TSN is still ahead of its new competition, Sportsnet 650. The Bell Media-owned station boasts a 12+ audience share of 2.4, up from 1.9 last quarter. Sportsnet is growing, but is still behind in overall share (currently at 1.4) and in its male 25 to 54 demo (although it boasts significant share over TSN in women 25 to 54).
But Trevor Martins, program director for the station, tells MiC that it's always trying to stay "ahead of the trends." That's why it's made a series of changes to its weekday lineup beginning April 1.
Making the move to early mornings is longtime mid-morning duo Mike Halford and Jason Brough. Halford & Brough (pictured) will start the morning off with insight, analysis and major sports stories, with a touch of humour. Martins says their relatability is ideal for the morning crowd. "They're funny, knowledgable, and will make listener morning commutes through the Lower Mainland as entertaining as possible."
They replace the current 1040 Morning Show, and will run from 6 a.m. to 10 a.m.
That will result in midday program Donnie & The Moj moving to the 10 a.m. slot, as well as expanding from a three-hour to a four-hour broadcast. Veteran hosts Don Taylor and Bob "The Moj" Marjanovich specialize in sports analysis and insider info, particularly centered around the Vancouver Canucks.
Matt Sekeres and Blake Price, the duo behind Sekeres and Price, will move to 2 p.m. and have doubled the length of their show to four hours.
TSN 1040′s exclusive broadcasts include the BC Lions, the Vancouver Whitecaps FC and Seattle Seahawks. Its main competition, Sportsnet, has the exclusive rights to the Vancouver Canucks, the Vancouver Giants and the Vancouver Canadians.
Martins says the goal for TSN is to "cement ourselves as the voice of Vancouver sports" and that the changes are a way to "respond to our audiences [and] resonate with listeners."