The Good Doctor finale wins the week: Numeris
It was good news for The Good Doctor's second season finale, which took in 2.79 million viewers in English Canada.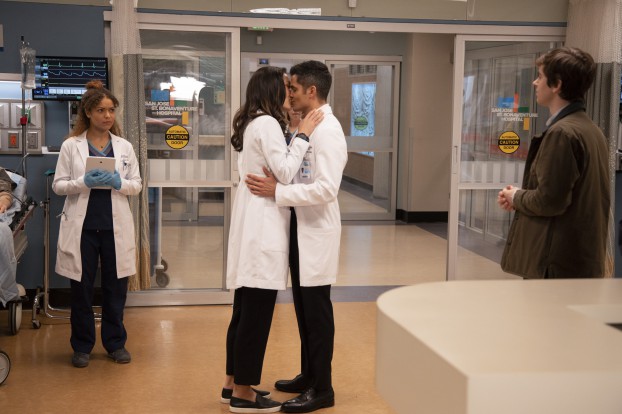 The Good Doctor kissed goodbye to its second season on a high note, grabbing the top spot in the ratings for the week of March 11 to 17.
The finale of the medical drama's sophomore season drew 2.79 million viewers when it aired on CTV on March 11 at 10 p.m. in English Canada, according to Numeris. The Good Doctor has been a top-five finisher all season, usually only falling behind The Big Bang Theory and Young Sheldon (neither of which aired new episodes during the week).
Rival network, Global, dominated the rest of the top five, with New Amsterdam, Survivor, NCIS and FBI respectively.
Meanwhile, in Francophone Quebec the top show was La Voix on TVA, followed by  Unité 9 on SRC, with TVA's L'échappé coming third, followed by SRC's Les enfants de la télé and TVA's O' rounding out the top five in la belle province.
Canada (Anglophone)
1. The Good Doctor on CTV Monday at 10 p.m.: 2.79 million viewers
2. New Amsterdam on Global Tuesday at 10 p.m.: 2.37 million viewers
3. Survivor on Global Wednesday at 8 p.m.: 2.04 million viewers
4. NCIS on Global Tuesday at 8 p.m.: 1.94 million viewers
5. FBI on Global Tuesday at 9 p.m.: 1.94 million viewers
Quebec (Francophone)
1. La voix on TVA Sunday at 7 p.m.: 1.95 million viewers
2. Unité 9 on SRC Tuesday at 9 p.m.: 1.39 million viewers
3. L'échappé on TVA Monday at 9 p.m.: 1.20 million viewers
4. Les enfants de la télé on SRC Wednesday at 8 p.m.: 1.20 million viewers
5. O'  on TVA Tuesday at 8 p.m.: 1.16 million viewers
Montreal (Anglophone)
1. The Good Doctor on CTV Monday at 10 p.m.: 114,000 viewers
2. This is Us on CTV Tuesday at 9 p.m.: 71,000 viewers
3. Grey's Anatomy on CTV Wednesday at 9 p.m.: 71,000 viewers
4. Law & Order: SVU on CTV Thursday at 10 p.m.: 68,000 viewers
5. Station 19 on CTV Thursday at 9 p.m.: 64,000 viewers
Toronto/Hamilton
1. The Good Doctor on CTV Monday at 10 p.m.: 603,000 viewers
2. Survivor on Global Wednesday at 8 p.m.: 526,000 viewers
3. New Amsterdam on Global Tuesday at 10 p.m.: 464,00 viewers
4. NCIS on Global Tuesday at 10 p.m.: 398,000 viewers
5. Station 19 on CTV Thursday at 9 p.m.: 371,000 viewers
Edmonton
1. Hockey Night in Canada on Sportsnet Saturday at 8 p.m.: 110,000 viewers
2. The Good Doctor on CTV Monday at 10 p.m.: 101,000 viewers
3. MacGyver on Global Friday at 9 p.m.: 82,000 viewers
4. Blue Bloods on CTV Friday at 8 p.m.: 80,000 viewers
5. The Curse of Oak Island on History Sunday at 10 p.m.: 79,000
Calgary
1. New Amsterdam on Global Tuesday at 8 p.m.: 133,000 viewers
2. The Good Doctor on CTV Monday at 10 p.m.: 128,000 viewers
3. FBI on Global Tuesday at 9 p.m.: 107,00 viewers
4. NCIS on Global Tuesday at 10 p.m.: 107,000 viewers
5. Station 19 on CTV Thursday at 9 p.m.: 90,000 viewers
Vancouver/Victoria
1. New Amsterdam on Global Tuesday at 10 p.m.: 228,000 viewers
2. Survivor on Global Wednesday at 8 p.m.: 206,000 viewers
3. The Good Doctor on CTV Monday at 10 p.m.: 200,000 viewers
4. Hometown Hockey on Sportsnet Sunday at 4:12 p.m.: 183, 000 viewers
5. FBI on Global Tuesday at 9 p.m.: 181,00 viewers