Landmark brings pre-show ads in-house with Broadsign
Canada's second largest movie theatre chain found a new partner after splitting with Cineplex Media last year.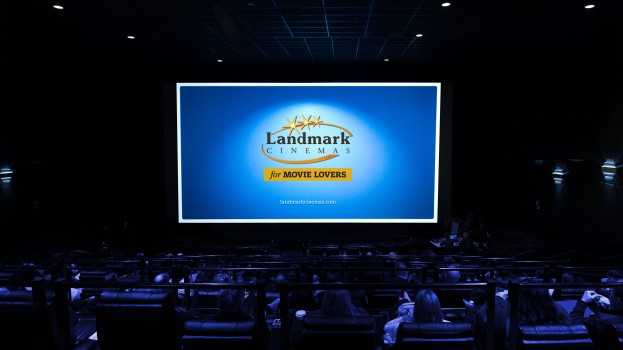 Landmark Cinemas has partnered with Broadsign for its pre-show entertainment on 319 screens spanning 45 cinemas across the country.
Canada's second-largest movie theatre chain opted to go with the Montreal-based DOOH company after splitting from Cineplex Media, which previously provided the pre-show content, last year. Cineplex Media is the advertising arm of Cineplex Entertainment, which currently has 1,676 screens in 164 theatres across Canada.
Landmark's pre-show now focuses on movie trailers, as well as movie-related content that Landmark, which is headquartered in Calgary, is now creating itself. The content will be produced using Broadsign's content management system, Broadsign Control.
"Really for us [this is about] taking control of [having] very movie-focused pre-show material," Landmark CEO Bill Walker tells MiC.  "We're able to source our own content and curate that to the appropriate audiences."
The pre-show entertainment is a balancing act of "entertainment content, sort of advertorial content and straight advertising," says Walker. The movie studios provide the bulk of that content via movie trailers and Landmark is supplementing that with behind-the-scenes interviews with actors, as well as red-carpet access to celebrities, he adds.
Landmark will sell some traditional ads, while Broadsign, which specializes in providing tech in the DOOH space, will use its CMS to automate scheduling based on the estimated audience profile of the film (which is organized by genre, rating and showtime). Landmark owns 45 theatres with 319 screens total. Its main geographic area of concentration is in Western Canada, although it also has a small presence in Southern and Eastern Ontario. It shows films to an estimated 12 million Canadians per year.
Down the line Landmark may invest in offering content similar to TimePlay multiplayer interactive experiences, which have played in Cineplex theatres over the years. But for now, Landmark is focused on building relationships with studios.