New partnership courts female e-sports fans (and sponsors)
Lazarus Esports and the SheIS Collective have inked a deal that they say is already attracting new potential sponsors.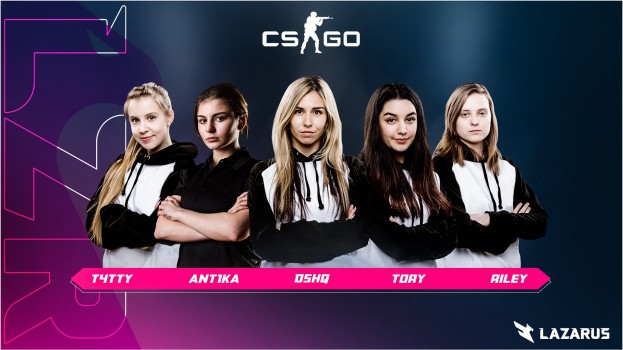 The e-sports market has long been identified as a major area to watch; with young audiences diving further into the niche and competitions drawing millions of viewers worldwide, a plethora of advertisers from categories ranging from CPG to consumer tech and telcos have invested in e-sports sponsorship and advertising.
But a new partnership aims to elevate a crucial demographic in the medium: women.
E-sports management company Lazarus Esports and the SheIS Collective have entered into a new partnership that will help increase support of women in sports and raise of awareness of women's e-sports in Canada. The deal includes the Lazarus women's teams, CS:GO and League of Legends, joining the list of SheIS Collective athlete ambassadors and wearing limited edition co-branded apparel on all world events. Team members will also film personal videos in support of the SheIS Challenge.
David Brisson, president of Tiidal Gaming, Lazarus' parent company, tells MiC, "It sends a very strong message to game developers and competitors that we compete against on a global scale." He says it also opens the sport to new audiences and, thus, new sponsors, who may have previously associated e-sports as a primarily male-friendly media.
He says that women's e-sports has the potential to be a huge market, and there is no reason why teams shouldn't be taking a more proactive role on the female side. Right now Lazarus represents two women's teams but expects to soon expand to 10 to 12 globally. Brisson says the response from Canadian sponsors and advertisers has been positive, and although he would not say which brands had expressed interest, he said these brands haven't traditionally supported e-sports.
L.A.-based market research firm Interpret released a report in February that shows that women make up more than 30% of the US esport audience  and account for 35% of the people playing esport games. In Canada, Brisson says e-sport viewership is strongest in the 18 to 34 segment (a recent study by the MTM backed that up; while 5% of all Canadians have streamed an e-sports match or related material in the past month, that rate of viewership tripled in the 18 to 34 segment).
The SheIS Collective was established in May of last year to champion women in sports and includes leading female athletes and organizations from every major sport. It encourages fans to attend games and use social media to support women in sports.
Lazarus Esports was previously known as SetToDestroyX before rebranding last November. It represents more than 40 competitive pro gamers in more than 10 countries with their teams ranking in the top-five worldwide.