Spotted! The message behind Brita's cascading campaign
An art installation hopes to put plastic impact in perspective.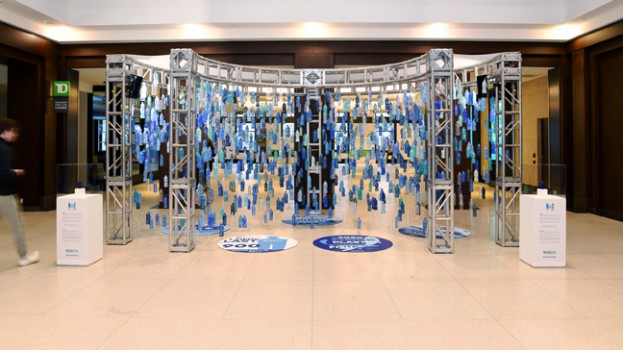 Niagara Falls has long been considered one of the world's most exquisite and awe-inducing wonders.
Less exquisite, however, is the impact of plastic waste.
This week, "Niagara Now", a 12-foot-high, horseshoe-shaped waterfall constructed entirely of 900 plastic water bottles painted in shades of blue and sea green is greeting Toronto commuters at Union Station.
Asher Jay, well-known artist, conservationist and National Geographic Explorer, created this one-of-a-kind art piece. Her mandate from Brita Canada was to show the impact of single use water bottles have on Canadian waterways by replicating Niagara Falls from single-use plastic materials.
On the floor around the installation are messages citing some of the astounding statistics around the pollution of Canadian waterways by plastic single-use water bottles. On either side of the large waterfall are two display cases, each with a single Brita Longlast Filter.
Matt Kohler, VP of marketing for Brita Canada, tells MiC, "The whole idea behind the installation is that there's one tiny filter beside 900 water bottles, and that one filter can replace those 900 bottles. Another stat that really grabs attention is that by 2050, we're going to have more plastic in the ocean than we have fish. When consumers find out that each plastic bottle takes 450 years to decompose, they start to take notice. There are two billion bottles of water sold in Canada each year and each one takes 450 years. "
Although "Niagara Now" will be in Union Station this week only, Kohler says Brita is looking at ways to be able to take it on the road. This new Brita campaign also includes "The Beauty Beneath", a 60-second national TV spot slated to run throughout the year, as well as digital support through YouTube, Facebook and Instagram. Dentsu Bos handled campaign creative with media placement by OMD and PR from Devon Consulting.
"An estimated 22 million pounds of plastic enter the Great Lakes each year," says Kohler. "It's a nice simple message. We're trying to tell consumers that their small choices can make a big difference in the world."