Spotted! Reester rides the Rocket
A life-sized Reese Easter treat rode the TTC, grabbed a snack and walked a dog to drum up some Easter egg-citement.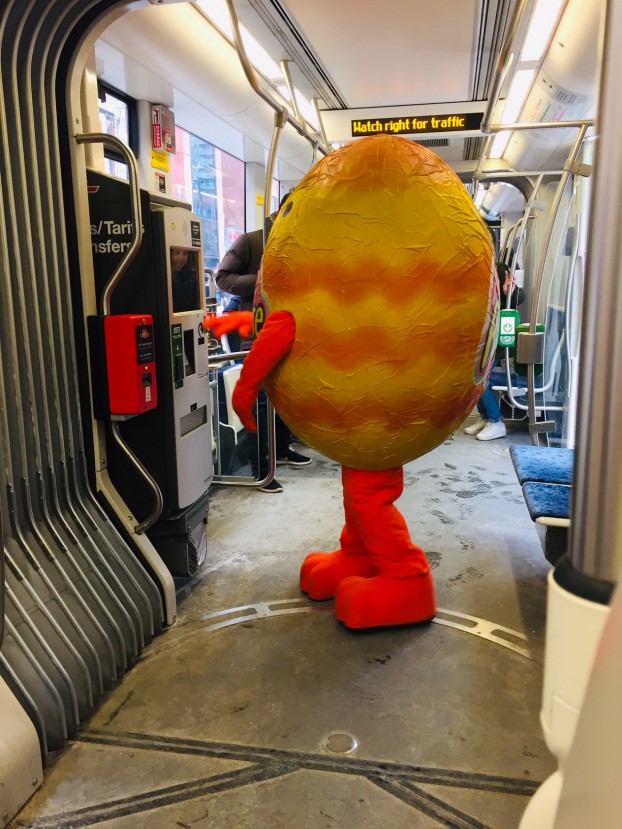 On a snowy Sunday, a life-sized Reese Easter egg, a.k.a. Reester, was spotted riding the TTC, walking a cute dog and buying a hot dog.
The lighthearted stunt was held on March 31 in the heart of downtown Toronto in a bid to whip up "egg-citement" for Reese's peanut butter-filled chocolate Easter eggs, which are back for a second year in Canada. The activation for the Hershey's-owned candy brand was handled by Anomaly on creative, with media buying from UM and PR by Mint. The launch of #Reester also included an Easter egg hunt in Toronto that was documented via promoted Instagram Stories.
While Reese is primarily known for its iconic peanut butter cups, the brand has branched out with other yummy treats, including the seasonal Easter eggs, as well as its Reese's Pieces Peanuts – which Hershey's also promoted with an innovative place-based activation recently.