Oikos changes up the media plan for new campaign
Why the yogurt brand decided to lessen its buy on TV and social this time around.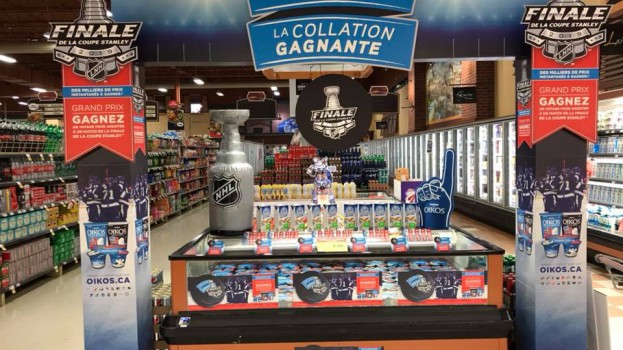 When you've been running a long-standing contest for several years, what's the best way to change the media plan?
For DanoneWave-owned yogurt brand Oikos, the answer was to pull some of its spend out of TV and digital and instead focus it elsewhere. The redeployed media spend will go toward more in-store promotion in order to drive sales of the yogurt and promote its co-branded contest with the NHL.
This is the fourth edition of the Snack to Win promotion, and senior communications director Natacha Gouveia says that the change was built in recent efforts by Oikos to be more experiential and experimental.
"We have built a following with the young professional consumer demographic," she says, noting that these individuals tend to focus more on experiences than advertisements. Given that, she says, the Oikos brand has increasingly invested in more experience-based marketing both in its creative (its social media accounts depict people eating the yogurt during what it calls 'escape moments' at tourist destinations and social events). Another example, she says, is the brand's activation at last year's Osheaga music festival in Montreal, a first for the brand. That sponsorship saw the brand's Instagram following grow by 3,000 on opening weekend, prompting Oikos to lean in and go where the excitement is.
"Given this growing focus, it makes sense for us to engage consumers in an experience-oriented environment, like in-store."
The brand's partnership with the NHL also played a big part in choosing to move more media spend to the in-store piece. With the grand prize being a trip for two to the 2019 Stanley Cup Final game, "the marketing collateral puts the NHL and Stanley Cup logos front and centre. The NHL and Stanley Cup have very powerful brand equity."
There will be some supporting media outside of in-store, with most dollars being in digital. Digital buys on YouTube (paired against hockey content) and NHL.com will drive mass awareness, while social ads will drive to the main content page. There will also be a TV spot that focuses more broadly on the Oikos' ongoing "Dream" platform.
Gouveia says Oikos will continue to focus much of its media strategy on more experiential-oriented activations, although that may look different from campaign to campaign.
Most media will be in-market until the end of April, although social advertising will be live until mid-May. The draw for the grand prize will take place May 10. Media buying was by Wavemaker, with Taxi on creative, Carl on social media strategy, Mirium on digital, National on PR and Bob on in-store.