Big Bang brings it again: Numeris
Election coverage stole the show in Edmonton.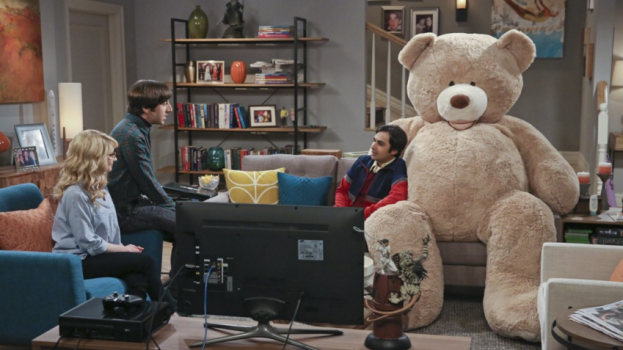 No surprises: The Big Bang Theory came back as the number-one show in Canada, with 3.21 million average viewers. After two weeks away, the CTV comedy proved that when Big Bang is on air, it's on top.

It was followed by rookie CTV series The Rookie, which took an average of 1.96 million viewers. Close behind was Global's 9-1-1, followed by Survivor and New Amsterdam.
While Big Bang managed to snag almost every Anglophone market, Edmonton was instead tuned into CTV's coverage of the provincial election. Calgary also posted high numbers for the coverage as well, but the special came in third for the week with 96,000 views (Global's coverage was close behind).
Francophone viewers flocked to La voix once again, with the competition show bringing in 1.75 million viewers.
Canada (Anglophone)
The Big Bang Theory on CTV Thursday at 8 p.m.: 3.21 million viewers

The Rookie on CTV Tuesday at 10 p.m.: 1.96 million viewers

9-1-1 on Global Monday at 10 p.m.: 1.92 million viewers

Survivor on Global Wednesday at 8 p.m.: 1.89 million viewers

New Amsterdam on Global Tuesday at 10 p.m.: 1.79 million viewers
Quebec (Francophone)
La voix on TVA Sunday at 7 p.m.: 1.75 million viewers

La vraie nature on TVA Sunday at 9:27 p.m.: 972,000 viewers

Le bon docteur on TVA Thursday at 8 p.m.: 866,000 viewers

Dans l'oeil du dragon on SRC Wednesday at 8 p.m.: 768,000 viewers

Ca finit bien la semaine on TVA Friday at 6:59 p.m.: 784,000 viewers
Montreal (Anglophone)
The Big Bang Theory on CTV Thursday at 8 p.m.: 93,000 viewers

The Rookie on CTV Tuesday at 10 p.m.: 80,000 viewers

Station 19 on CTV Thursday at 9:01 p.m.: 77,000 viewers

9-1-1 on Global Monday at 10 p.m.: 69,000 viewers

The Resident on CTV at 8 p.m.: 61,000 viewers
Toronto/Hamilton
The Big Bang Theory on CTV Thursday at 8 p.m.: 656,000 viewers

Survivor on Global Wednesday at 8 p.m.: 502,000 viewers

9-1-1 on Global Monday at 10 p.m.: 393,000 viewers

FBI on Global Tuesday at 10 p.m.: 347,000 viewers

NCIS on Global Tuesday at 8 p.m.: 341,000 viewers
Edmonton
Global News Decision Alert on Global Tuesday at 7 p.m.: 108,000 viewers

The Big Bang Theory on CTV Thursday at 9 p.m.: 106,000 viewers

9-1-1 on Global Monday at 10 p.m.: 89,000 viewers

The Rookie on CTV Tuesday at 7 p.m.: 77,000 viewers

CTV News Special on CTV Tuesday at 8 p.m.: 76,000 viewers
Calgary
The Big Bang Theory on CTV Thursday at 9 p.m.: 131,000 viewers

9-1-1 on Global Monday at 10 p.m.: 110,000 viewers

CTV News Special on CTV Tuesday at 8 p.m.: 96,000 viewers

Global News Decision Alert on Global Tuesday at 7 p.m.: 95,000 viewers

The Rookie on CTV Tuesday at 7 p.m.: 78,000 viewers
Vancouver/Victoria
The Big Bang Theory on CTV Thursday at 8 p.m.: 225,000 viewers

Survivor on Global Wednesday at 8 p.m.: 188,000 viewers

New Amsterdam on Global Tuesday at 8 p.m.: 182,000 viewers

FBI on Global Tuesday at 9 p.m.: 169,000 viewers

NCIS on Global Tuesday at 8 p.m.: 162,000 viewers