Adult Swim reveals another set of premiere dates
The slate includes popular cartoon series Archer and one from the mind of Tyler, the Creator.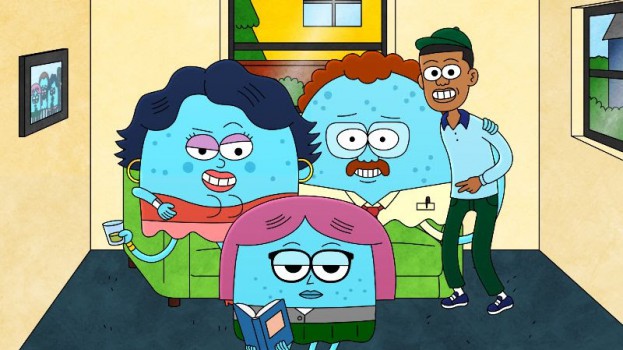 One month into its Canadian launch – and its free preview – specialty network Adult Swim has unveiled its first round of spring and summer premiere dates.
The fourth season of Your Pretty Face is Going to Hell dropped May 3 at midnight, and will continue to air Fridays at midnight for the remainder of the season. This is a day-and-date premiere with its U.S. networks (FXX and Adult Swim). The series is a standard live-action workplace comedy in a not-so-standard workplace: Hell. Starring The Sopranos' Matt Servitto as the boss/Satan, the season will also feature guest starts such as George Wendt, John Amos and Joey Fatone.
Making it Canadian debut is The Jellies (pictured), Saturday May 12 at midnight. The animated series follows a family of jellyfish with a 16-year-old human son created and scored by rapper Tyler, the Creator.
The next series to debut is one of Adult Swim's most popular mainstream properties, Archer. Now in its tenth season, the animated series will take on yet another themed season in Archer: 1999 (which will include slightly new characterizations, including Amber Nash's Pam Poovey as a rock monster. Archer comes to Canadian airwaves May 29 at 10 p.m. and will air that time on Wednesdays throughout the season.
Finally another first-to-Canada series, Hot Streets, will premiere June 2 at 10:45 p.m. The animated series follows an FBI agent exploring supernatural phenomenon and features voice talent from other adult cartoon juggernauts such as Robot Chicken and Rick and Morty.
Adult Swim remains in its free preview until May 31.
Allison Carr, head of specialty marketing for Corus, told MiC in a previous interview that marketing Adult Swim in Canada had a unique challenge; it had to come out of the gates strong in order to increase brand awareness quickly.
"Adult Swim in the U.S… had over 15 years to build up the brand, which started as a small block on Cartoon Network. They went through a million experiments, tests and learning experiences. We've had essentially four weeks to build up a really strong marketing plan."
For Corus, the marketing plan included numerous OOH activations around urban areas, a television campaign and an experiential stunt featuring a larger-than-life Rick of Rick and Morty fame.
But Carr says the network is also eager to put shows besides just the beloved Rick and Morty in the spotlight. "Everything we've focused on so far has been about the whole channel."
Buger King and Pokerstars.net served as the official launch partners for Adult Swim, with Burger King brokering its deal through AOR Horizon Media, while Cossette Media led the charge for Pokerstars.net.