Corus signs Philadelphia Cream Cheese for new social series
Mid-form Twitter series, ASMR content, Instagram recipes and a Facebook Live reaches wider for iconic Kraft brand.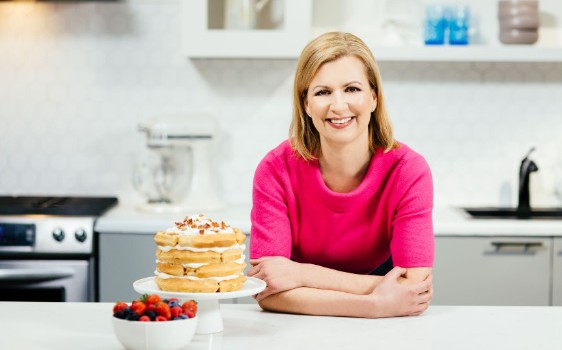 A multi-platform campaign for Philadelphia Cream Cheese Frosting will see Corus Entertainment deliver its third mid-form Twitter series format, Sweet Somethings.
Produced by the broadcaster's in-house content studio So.da, the series of four weekly six-minute spots – starting May 7 on Food Network Canada's Twitter – will be hosted by the network's pastry chef Anna Olson (pictured above) as she whips up an array of baked goods to showcase the Kraft brand's product.
More than 6 million viewers tuned in to the previous two social series Destination and One Dirty Dish; completion rates were twice that of Twitter's benchmark, according to Corus.
Content will appear across linear, social and digital platforms in recipe vignettes, on-air lower-thirds and in a sponsored campaign first for Corus, ASMR (autonomous sensory meridian response) content.
"With past series, we've seen the content drive up important KPIs for brands such as intent to purchase and brand recall," SVP of marketing for Corus and head of So.da Dervla Kelly, tells MiC. "You're getting the product and the brand in front of a targeted and engaged consumer."
Kelly says ASMR is a "huge trend in the social space," particularly when it comes to baking. "In particular, audiences love to watch baked goods being iced, so we thought this was a perfect fit for Philadelphia's new frosting."
Building on the social audience, the campaign also incorporates YouTube baker Yolanda Gampp, who will conjure up Instagram recipe videos for Mother's Day. Canadian fans will receive recipes via mail along with a coupon for the product and in July, a Facebook Live titled, Camp Cake, will give viewers the opportunity to spend the day with Gampp learning how to get the most from the sweet ingredient.
The campaign will also include custom content from Kin Canada creators Siya Zarrabi, Joanna Venditti and Christina Dennis, intended to engage a wider demographic. "Philadelphia is looking to target women 25 to 54 who use cream cheese for baking and prefer to bake from scratch," Kelly says.
Corus fully acquired Kin Canada last month, giving the media company further access to the network's array of influencers and micro-influencers to help further boost Corus' in-house social series and campaigns.