MiC roundtable: Working toward media sustainability
Our experts discuss how the expectations are changing between partners, and how organizations have had to up their game as well.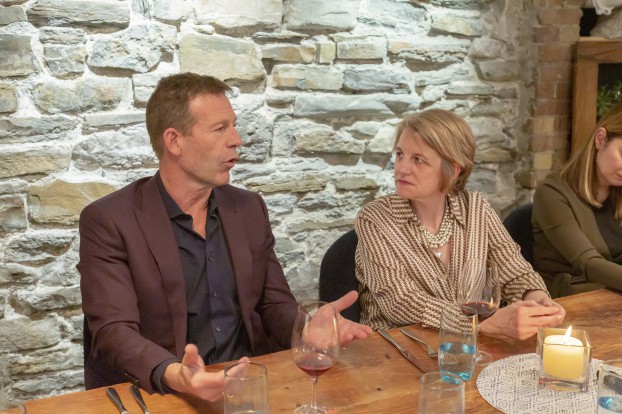 In order to build a sustainable media industry for the future, brands, media agencies and media providers need to come to the table.
So for our latest in a series of roundtables, strategy and MiC have done just that – literally.
At a recent dinner discussion in Toronto, leaders from all sides of the industry got together to chat about how they've had to change in the face of digital transformation, how they're changing the way they train and how the trust and relationships have changed between parties.
Present at the table were Interac's AVP of marketing and brand Andrea Danovitch, Havas Media president Alex Panousis, The Globe and Mail CRO Andrew Saunders, Cundari EVP of media Luke Moore, Blue Ant Media SVP of media solutions and head of Blue Ant Plus Mitch Dent (pictured above and left), Globe and Mail managing director of ad products and innovation Tracy Day (pictured above and right), CBC executive director of multi-platform media sales Mary Kreuk and Clorox VP of marketing Matt Kohler.
In part one, we dive into the changing expectations between partners, and the skills that have had to change alongside.
MiC: A lot is changing. There's a lot more paywalls. A lot of reports saying digital is overtaking traditional spend. We're seeing media companies posting layoffs. With all that in mind, how have expectations changed between agency, advertisers and publishers?
Havas' Panousis: If we think about it, Google is 20 years old. We are firmly at the young adult stage of digital transformation. We used to buy and sell, call up, say The Globe and Mail and we'd have a transaction, now, I see (at least the good ones) moving into business partnerships where there are expectations to do more, solve broader problems in the space and ecosystem. It requires different talents and a different view on how media works. We used to buy it as reach, whatever metrics, now we buy it as attention, making sure that the consumer sees it even once.
The Globe and Mail's Day: From the platform side, you have to be more agile. The transactional side is still there, but there's so many different areas now, based on clients' KPIs. Some are looking for awareness, some are looking for conversion. You need a team that can handle it all. For example, we have our custom content team that do influence programs, podcasts, video, you have to have those skills there to provide all those for clients. It's a whole new universe for us. We have to be very careful making sure our solutions fit our audience as well.
Interac's Danovitch: From a brand perspective, there needs to be a different kind of collaboration between our partners. You have to have a team today. You can't just rely on one good partner in a silo to do your job. I see my creative agency, my media agency, my PR agency, things that are sometimes separate, coming together to truly build out that ecosystem.
Cundari's Moore: I think the platforms have really democratized media management. At one time, you had to be working with a media company to execute primarily traditional media. Now that can be done by the clients, by the platforms, by the agencies. You see that a lot lately where the digital is going in-house, and digital has completely eliminated the notion of lead time. I have people who want radio and TV buys for next week. Digital has trained the thinking that you can just turn it on and off.
Danovitch: And test as well – you can do AB a million times over.
Blue Ant's Dent: Ten years ago, there were clearer lines. Some were friendly/adversarial. Platforms are blurry. Almost no one is succeeding in the business with clean platforms. It has to be agile, blurry, platform-agnostic. But the good relationships have good information flow, good common understanding of what problem you're trying to fix. In a way, I think it's a better system, a quicker system, a more neutral system where they're not operating on their own agenda. Ten years ago, every platform, every rep had their own agenda. There's still pieces of that, but it's not as black-and-white as it was then?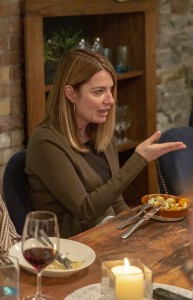 Havas' Panouis (pictured right): Is that because of the war on Google and Facebook? Or is it because we're better?
CBC's Kreuk: I work at CBC, so we don't have as many platforms as many of the other vertically integrated companies do. But at the end of the day, we do need to change to meet our clients need. Tracy, what you're doing at Globe Studios, I think we all need to do that, but for us it's just at a different scale.
The Globe and Mail's Saunders: The platforms, it's interesting, we call ourselves publishers at the table… Google and Facebook helped redefine the media industry. The talent it's attracted is very different. The capability to transact in a non-direct fashion… the transparency is higher in some respects, but the business transparency is often lower. Today's environment as a publisher, if you don't meet the requirements of your client, depending on what the KPIs are, you will not be on the buy and you won't even know why you're not on the buy. Because your viewability standards, your measurement, what's actually being delivered… there has been a shift in the marketplace to business outcome-based modeling rather than impression-based modeling. And people have redesigned their entire organizations to meet that.
Panousis: I think one of the other observations that we've made is this 20-year digital journey, or however long it is, we're at the 'come to Jesus' moment. We never thought privacy mattered, or transparency. Now, the currency that was once audiences, is now moving to contextual. I used to work for CBC too, and I remember working with someone in the digital group who said, 'The machine cannot vet content.' We can make the algorithms and they can read what they read, but at the end of the day you need a person who can actually say, 'This is worth putting an ad in front of.' We were moving you along to this panacea of cheap media, managed frequencies, whatever we told you, whatever the song and dance was. Now we're going back and saying, 'Shoot, we're wrong.' You [advertisers] bought the dream, but did it pay out?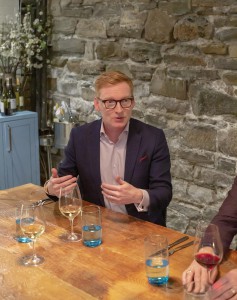 Clorox's Kohler (pictured left): My biggest challenge is, how do you allocate your dollars? At the end of the day, I'm going to be agnostic and go where my audience is. So if people aren't reading print magazines, that means I'm not investing in print magazines. The fact that she [my target] is using more digital means I'm going to invest in more digital. The challenge I have is visibility and understanding how each of those incremental media add to the overall mix? I know I can buy TV and I can get whatever reach, and if I add magazines, I can add this much on. But if I take money out of that TV buy and put it into digital, I don't know if I'm hitting a new consumer, or the exact consumer twice. I need a comprehensive frequency look. I don't want to carpet-bomb the same consumer. And regarding democratization, I find it very interesting that in the old day, there were maybe three channels to buy media on, and no one used media agencies. Nowadays, there's a billion channels, and people are buying their media in-house.
Moore: But you know, they're not bringing traditional in-house.
Kohler: So we brought our digital in-house. And I've got a small team. We've got 19 brands and 20 people. So there's a lot of work to go around. We brought our work on the digital side in-house, and yes we had more transparency, yes we saved a lot of money on the media buying, but I didn't have that understanding of incremental reach, and my team spent most of their time vetting the platforms and publications, meeting with different vendors, invoicing. They didn't spend the time on strategy, so we ended up pushing it back out to the media buying agencies. We said, 'you're the experts.'
BR: Is there anything that you have, in the last couple years, had to suddenly become a subject matter expert in?
Dent: I think all of us have. Social media, programmatic, digital, it's now table stakes. We're all dealing with media brands that start out in one platform that now have audiences across multiple platforms. If you don't have basic levels of literacy across multiple platforms, you're toast.
Danovitch: I would agree with that. It's the level of expertise that's in question. You have to have that foundational knowledge, understanding that there are experts, but you have to have some knowledge in order to have the trust when you're having those conversations.
Panousis: And how do you get that?
Saunders: A lot of organizations have re-engineered themselves. Our organization has digital producers, social experts, people in the conference business, all purely focused on understanding our audience as best as we can and deliver business results. It is a matter of having the capability and infrastructure and then hiring the talent to bring that to light.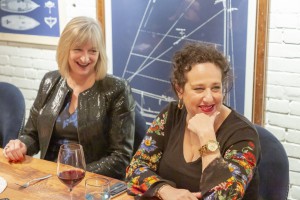 Danovitch (pictured right in photo): Today, when we're hiring, we're hiring people who are younger and coming in with those skillsets already, but we have a core group of great employees that the company is invested in, and we're fortunate enough to have training and development plans that are very important.
Panousis: My view is a bit different. There was a certain point in my career where I'd look across the room and know, they don't have a clue what's being talked about. Some of the decisions we made were made using half a can. I personally believe a lot of the failure of digital transformation is that it's not just about learning a process. Understanding code and how technology works at its core, understanding programmatic, header bidding, PMPs, it's a skillset that I had to work hard to learn, and I came from media. My fear is, on the brand side, especially those who are bringing it in-house, as the business marks change, how do they feed their brain? What do you do to give them that?
Kohler: Twenty years ago, your CMO was a mid-50s guy with salt and pepper hair, cool-guy glasses and a great relationship with the creative agency. Today, they're a younger person, more tech-savvy, walks around with a backpack. They're a bit of a nerd, but you have to be.
Panousis: I don't think you have to be younger.
Kohler: But I'm doing my hardest not to become a fossil. I go out to lunch with millennials and say, 'let's have a conversation. Tell me how you use Instagram.' If you can't evolve, you're dead.
Kreuk (pictured, above and left): Immersing yourself takes years, though. You have to ask the right questions.
Moore: And if you're smaller, whether you're a client or an agency, to get service out of Google or Facebook or Twitter can be super challenging. It's not like you can go see them on Richmond Street. It's super challenging to be innovative in this space when you're small.