MiC Roundtable: The impact of the disruptors
Industry leaders on the pressure to prove ROI, the disruptors that are changing the game and the need for platforms to be "less Canadian" in their approach.
Media is moving at the speed of sound – and with every new challenge comes a new disruptor looking to partner with brands and agencies and help them change up the game.
At our most recent roundtable discussion, leaders from agencies, brands and platforms discuss what's working, what's making them excited and what's making them hesitate.
Partaking in the discussion were Cundari EVP of media Luke Moore, Clorox VP of marketing Matt Kohler, Globe and Mail managing director of ad products and innovation Tracy Day, Interac's AVP of marketing and brand Andrea Danovitch, Havas Media president Alex Panousis, The Globe and Mail CRO Andrew Saunders, Blue Ant Media SVP of media solutions and head of Blue Ant Plus Mitch Dent and CBC executive director of multi-platform media sales Mary Kreuk.
Part two explores how new models and new companies are changing the game, the pressure to prove ROI and a possible need for media companies to become a little "less Canadian" in their attitudes.
Read part one here.
MiC: When platforms and agencies come together and have different data sets, different ways to share data, really cool things can happen. What are some times partners have come together and created something really effective?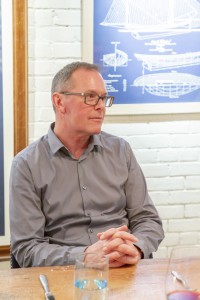 Cundari's Moore (pictured right): With the Canadian Cancer Society lottery, years ago they used to spend millions of dollars promoting their lottery twice a year. What they began to find was that through traditional media, the return on investment was declining really quickly. Last year, we sold out the lottery just using custom audiences in Facebook, and an investment of about $65,000. It hadn't sold out in years, and it was because we were using CRM data, custom audiences, content, really heavily testing and learning. At any given time, 102 campaigns going on at a given time. It completely recalibrated the funding for advertising. From 1.5 million to $75,000, basically.
The Globe and Mail's Day: I think the biggest issue is a lot of people have really good data but they don't know what to do with it. That's what we're facing right now. We're building something right now where we put all our data. DMP, subscription data, your Google data… there's so much, how do you put it together and sell it? How do you map and monetize the clients' journey?
Havas' Panousis: And lots of data is bad data. Not all data is created data. Not all data you're getting from the players that are selling it back to you is true and real. But in the last two or three years, the crutch on third-party data has been massive, and the investment in first-party data which has undoubtedly been way more expensive to build up, I wonder how brands are going to move in that space. The best ones will be the [financial institutions] because that's their bread and butter and they understand that, but the CPG guys, unless you have a massive CRM program, you have the least of that. It's a very interesting time in terms of processing and what we can do quickly.
The Globe and Mail's Saunders: The flipside is, the marrying of first- and third-party really doesn't play well in the Canadian party. And on the other side, you've got scalability issues from the buying side. The buying side doesn't have a lot of interest in buying niches that aren't scalable. Those niche segments could be high, but the buying community doesn't want to deal with four or five or six publishers. They want maybe three.
Blue Ant's Dent: We're struggling with that. We have a lot of niche, passionate audiences because at the end of the day, you need scale. With Cottage Life we do well because we've been able to scale TV and digital, YouTube and tradeshow activation. Now we're dealing with gaming. We've got piles of YouTube eyeballs, piles of web eyeballs, 50,000 people going to tradeshows. But getting those data points to talk to each other? Getting that into manageable segments and making it work is tricky.
Clorox's Kohler: The reality is, this stuff is expensive. In order to consolidate all that data, you need a team, you need systems to analyze it. And Canadian teams are thinner than U.S. teams. In order to justify that investment, I need to assume that the lift I'll get is greater. And I struggle with that scale. You either need to centralize your tech and platforms globally, which is easier for some direct-to-consumer businesses in Canada, but if you're not direct-to-consumer, it's a completely different set of skills.
MiC: Do you see much of a future to be able to get the money to build CRM in Canada, having to justify pulling money out of other pockets?
Kohler: Ultimately, my management just cares about the business space. I need to be able to justify that that data investment is going to get me something good.
Dent: And it's all bottom-of-the-funnel digital justification. Then to have all the other issues. The TV industry has a study out right now talking about the ideal media mix. They argued that there's a slight over-rotation to digital. You could put any traditional media dynamic in it, but it's about the branding funnel versus the attribution piece at the bottom of the funnel. And the problem is that all digital is focused on that bottom of the funnel. Which doesn't mean you don't do it, but if you put all your money into that world, you lose the war.
Kohler: But there's an element on top of that. Let's say we take all that data, we create those segments for those micro-targets. We then need to create the messaging for them. I'm not staffed to do that either. Let's say I'm doing a probiotic campaign for different targets – new moms, people experiencing stress – I don't know how to do that.
Panousis: There are tech players in the market that are different kinds of models that are creating for responsive spaces. It's a different way of looking at creative. Some companies in Canada resist that. But it's incredible to step back and look at the martech space. There are different solutions that, honestly, if you grew up in marketing, you'll have never seen. This is a new door to explore, the companies and groups using different models. I look at that and I say, 'I wish I knew more.' Running an agency, I have to make sure I'm managing the scale factor. What I did was I doubled down on tech. You have to be a contrarian, but you also have to be open to understanding, and test.
Saunders: The flipside to that is performance, and investigatability. With all that's spent on data, I do wonder about the actual financial business performance, going down to the micro-segmentation level. I think it sounds good, it sounds fantastic, I have all these segments that I can target, but is it worth it?
Kohler: Those micro-targets with the right message at the right time to the right person do perform better.
Day: But it's a higher cost-per-acquisition.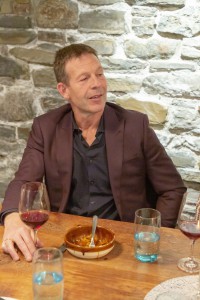 Dent (pictured left): You get over-zealous  brand managers who want to do 48 different segments, they want to have creative reviews constantly, and no one has the time for that, and it will never pay out. Social will drive you crazy.
Panousis: A lot of that proof is cheap, but the problem is [the companies] are only playing in certain platforms. And now,  the ROI is significantly better than it was before.
Saunders: Sometimes we focus on the sexy, shiny toy without applying business fundamentals. I think the combination of embracing this change, learning, testing, making sure the return is there, people are moving too fast without doing the business fundamentals.
Kohler: You have to think about the content and the medium. A lot of companies are going with this sexy, non-traditional media, and the costs just blow up. You need to have fewer agencies at the table. I can't have ten agencies at the table reviewing creative.
Interac's Danovitch: Certainly there's something to be said for a lack of continuity when it comes to the brand. I can definitely say, though, that I feel the tension internally from the newer side of our business, the emerging payment side, the innovation crew and all of that. They're working with these new companies and they don't have the time, patience or ability to go to market in the ways that we used to deal with from our regular, traditional agencies. They can't wait all those weeks for creative. It's not in their DNA. They're the ones pressuring us to go outside our original AORs.
Saunders: I mean, you have to reflect on what Google and Facebook and Amazon have done. Look at how they've transformed how we've operate, the emergence of direct-to-consumer brands. Look at all we've learned from Warby Parker.
Panousis: And who were the change agents in advertising? The platforms for sure, but the publishing industry, there was a point where everyone was dropping their pants and publishing to Facebook. Putting the content directly on the platform. And they owned the relationship with your audience. When that cut off and Facebook made that algorithm change, there were many publishers, Buzzfeed was an example, that saw their engagement go way down overnight.
Dent: But some models have changed. We were a TV producer, now most of our TV production is sold internationally, multiple platforms. As soon as you get rid of the border, you have two angles: one is you consolidate the Canadian audience and you become really meaningful to play against a global player, and the other is you have an international story and you don't build your whole business model on bought American shows.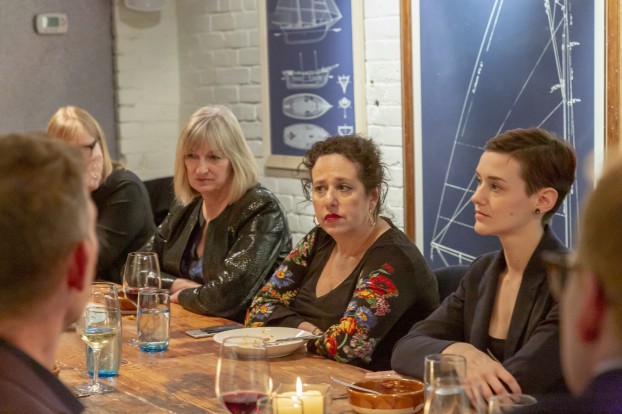 Panousis (to CBC's Kreuk): I mean, look at you guys, look at Schitt's Creek, even Kim's Convenience. You've created things beyond the brand.
Kreuk (pictured above and to the left): And we have new leadership as well – we have Catherine Tait, we have Michel Bissonnette on the Radio Canada side, and now we have Barb Williams coming in, and they're all from the private sector, which is great. And a large part of the mandate is bringing Canada to the world, taking it outside of the ecosystem we have here.
Saunders: There's a tremendous amount of innovation in this country that does not get recognized internationally. Yes, there's tonnes happening at Google, but there's tons happening domestically. We have publishers coming to The Globe and Mail asking how to innovate on their business models. Who would have thought The Boston Globe would be coming to us?
Kreuk: We've had that too.
Danovitch (pictured above and centre): We've been too Canadian. We need to toot our horn more.
Photos by Kevin Cordick