Canadian newspaper readership is at an all-time high
Study finds that younger Canadians are reading newspapers almost as much as boomers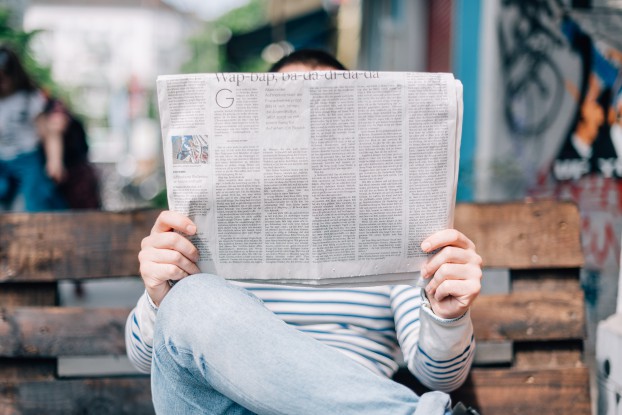 More Canadians than ever are reading newspapers in print or digital formats thanks to increased access to news content through digital platforms. Readership is strong across all demos and, contrary to a common misconception, millennials have not brought about the death of newspapers. In fact, 88% of millennials read newspapers weekly and although 66% read newspapers on a tablet and 57% on a phone, they also read print newspapers.
The seventh annual Newspapers 24/7 Report, a benchmark of Canadian newspaper readership conducted by Totum Research for News Media Canada, found that nine out of 10 Canadians (88%) read a newspaper – either in print or digital format – at least once a week. This is a 3% increase over the findings of the inaugural study conducted in 2012.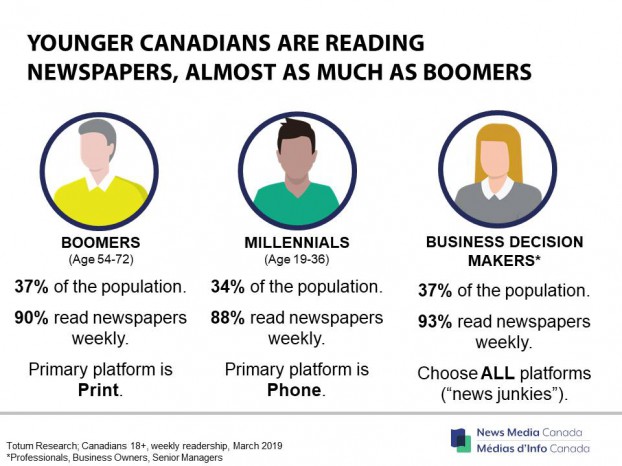 Digital newspaper readership continues to increase year-over-year but readers are using digital content to supplement, not replace, readership of print newspapers.
"Given heightened levels of global mistrust, there is a clear and continued affinity for reliable reporting. Newspapers continue to be the go-to source for credible, trusted and independent news, in both print and digital formats," says Bob Cox, chair of the News Media Canada Board of Directors.
The report found that most print reading happens early in the day while digital reading is consistent from morning to night. Some of the other findings of the 2019 Newspapers 24/7 Report include:
52% of readers read both print and digital newspaper content.
90% of all print readers also use digital platforms.
Western Canadians are stronger readers of print.
Ontario smartphone readership is significantly higher than average.
Quebec readers are stronger digital readers.
In Atlantic Canada, readers prefer digital platforms.
It's not surprising that the study found that boomers (37% of the population) are the most dedicated print readers and millennials (34% of the population) are the strongest digital readers. The members of a third reader group (37% of the population) are business decision makers. They are news junkies. They access news media on all platforms consistently throughout the day with 93% of them reading newspapers weekly. Business decision makers and adults with household incomes in excess of $100K read news media primarily on their phone but have the highest overall readership on any platform.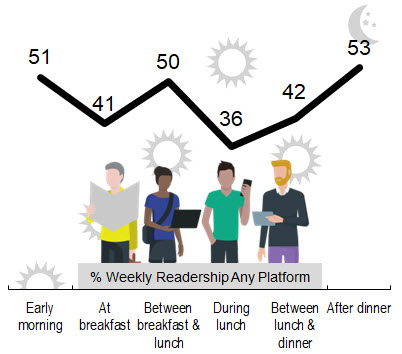 "This year's research clearly demonstrates that both print and digital newspaper sources play a unique and distinct role in the lives of Canadians," says Claude Heimann, president of Totum Research. "It's clear that people like to start their day with the comprehensive and in-depth reporting of a print newspaper and stay up-to-date on breaking news with digital as the day progresses."
Totum Research conducted the Newspapers 24/7 study in February 2019 through an online survey of 800 Canadians aged 18-plus.
News Media Canada is the voice of the print and digital media industry in Canada. Previously known as Newspapers Canada, the organization was established in late 2016 through the merger of the Canadian Newspaper Association (CNA) and the Canadian Community Newspapers Association (CCNA). It represents over 800 trusted titles across the country.
More detail on the Newspapers 24/7 study is available at www.newsmediacanada.ca.