MiC Roundtable: Buying in context
Our experts go beyond the studies and discuss what's really working, what mediums are becoming more efficient and how transactions are changing.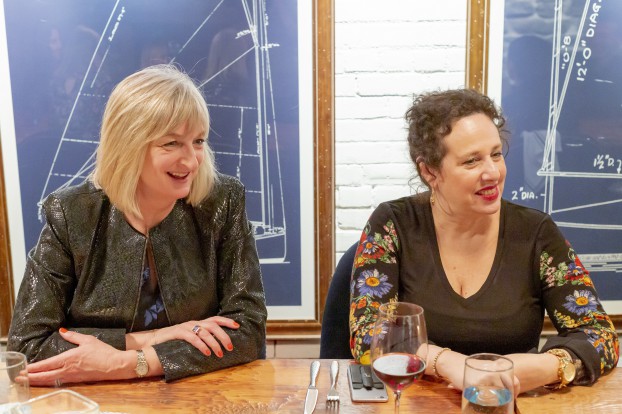 "Brand safety" is not a new concept, but in the last few years it has been talked about with a renewed and sharpened focus.
Beyond the obvious – pairing ads against questionable content – there's also matters of transparency between the buyer and seller, emerging ways to buy and – more importantly – how that affects prices.
In the final part of our industry roundtable discussion, we heard from all sides of the media industry to talk about what kind of opportunities these changes create for Canadian media players.
Partaking in the discussion were Cundari EVP of media Luke Moore, The Globe and Mail CRO Andrew Saunders, CBC executive director of multi-platform media sales Mary Kreuk (pictured, above and to the left), Clorox VP of marketing Matt Kohler, Globe and Mail managing director of ad products and innovation Tracy Day, Interac's AVP of marketing and brand Andrea Danovitch (pictured, above and to the right), Havas Media president Alex Panousis and Blue Ant Media SVP of media solutions and head of Blue Ant Plus Mitch Dent
Read the first three parts here.
MiC: We talked about the risk for brands being on platforms, adjacent to content not aligned with your values, but is there concern about how consumers feel about those brands advertising in those space?
Interac's Danovitch: For us, because we're not a product on a shelf, we don't control where we want to be in a retail space or even on an online space. So whether it's a strip joint and they offer Interac, it's something that's difficult to control for us. A marketing play and where we want to associate ourselves with content is a little different, but it's only in recent years that people are even seeing us as a brand and we see those kinds of challenges. We need to put our money where our mouth is in other areas. What are we doing when it comes to social good and other areas?
Clorox's Kohler: Brand safety and transparency for us is everything. Where we advertise affects our brands. I can't blame Facebook or YouTube, because consumers don't care. What I find a little distasteful is when publishers say, 'If you advertise with our premium content, that has more transparency and safety.' Every single advertising should be transparent. It should be table stakes.
The Globe and Mail's Saunders: But I don't think the ecosystem is as transparent as you think it is.
Kohler: Oh, it's not even close.
Saunders: But I do think when a premium publisher or a reputable company says to you on a direct IO basis, that something can be programmatic guaranteed, it can be a private marketplace, you will run on this specific site –
Havas' Panousis: But that costs more.
Saunders: But I don't know if the industry is operating that way across the board.
Panousis: It's like crack cocaine. We need to get off the crack. And it's hard because we bought ourselves these low CPMs and bought these myths that it was going to translate. The ROI models that are now probably five years old have been built on that base, which in my opinion are all suspect. So I hear you, and I'm a big advocate of transactional, direct IO deals. But it isn't about us versus Google, to me it's an "and." Even with the best publishers, the problem is the wide scale you get with [Google].
Saunders: And I'm not a proponent of any subsidization. I think any publisher needs to stand on its own two feet. But I think they need a seat at the table. And I think because of the consolidation that's taking place, we haven't been allowed to have that. There's pressure on headcounts, there's pressure on efficiencies and scalability. Everything we do is about the market. If the client wants it, we'll be there.
Panousis: One example of an interesting alternative is the Weather Network – 7.2 million unique viewers per month. They're a massive data player. Why aren't we celebrating them? Every time we say 'Facebook and Google,' why don't we say 'what about them?' Then there's the rural, the underserviced, the people who buy our brands? You service those communities.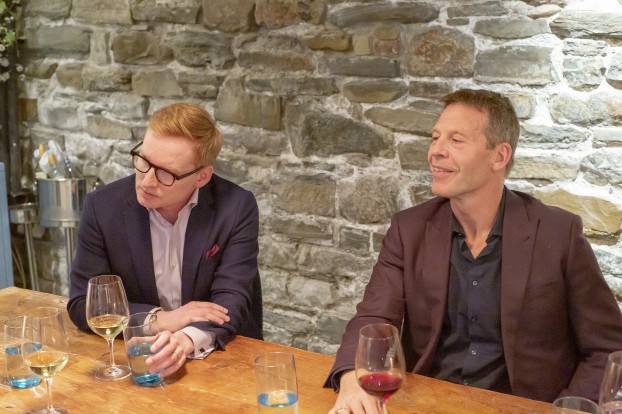 MiC: And we've lost local news, pretty much.
Kohler (pictured, above and to the left): The Weather Network adds a really interesting layer of engagement. We did a partnership with them and Burt's Bees, if the temperature dropped below a certain point, we micro-target those ads to the target areas.
Blue Ant's Dent (pictured, above and to the right): Campbell's Soup used to do that. I think one of the reasons the Weather Network doesn't get the same press is because the ad opportunities aren't the same. It's not as easy to make your brand come to life. You don't have space for even a six-second creative.
Saunders: Isn't that the new standard?
Kohler: I get really bothered when I hear people complain about that. It feels like creative laziness. The reality is, 75 years ago, everything was a print ad or an outdoor ad. One static image. That's what consumers want, just do it.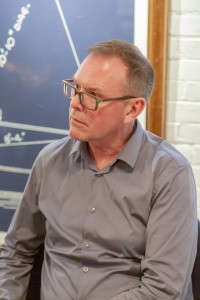 Cundari's Moore (pictured right): But a print ad, you can have a lot of copy.
Dent: But think of it like a billboard.
Saunders: It is about the right context at the right time.
Moore: In terms of investment going down in things like television, this is all part of it. If you go back, it used to be, 80 to 85% of dollars went into media, the rest went into production. Now it's production of all sorts of ad units, all sorts of ad formats, and the ratios are quite different. Somewhere around 30 to 35%, and the media is about 65%.
Dent: If I told you how much my TV business is up this year, people would fall down. It's ratings, but it's also inventory avails.
Moore: So the market came back.
Saunders: Does that mean the medium is more efficient or less efficient?
Dent: Well I would say pricing is going up, certainly.
Moore: But if you change the demo, it becomes super efficient.
MiC: When it comes to pricing and efficiencies, how does the fact that so much media is becoming biddable affect prices and the procurement process?
Dent: I think most of us think that the middle ground of private programmatic, PMP, programmatic guaranteed, is going to be a big growth zone in the middle zone between raw programmatic and traditional premium.
Panousis: Biddable is still there for conversion-based media, but the trend seems to be moving toward PMP, a walled garden approach, picking sites that suit for your media. I think the prices for that inventory is gonna slide up. PMPs are not going to be cheaper, you're going to make more money on them. The question to you [advertisers] is going to be, will you get a better view?
Saunders: I think it's a great way to transact. Programmatic guarantee, first look. It does depend on the client, and what their KPIs are.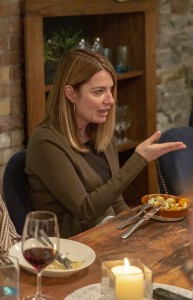 Panousis (pictured left): And I want procurement to stop asking us to benchmark RTB. You can say, "Here's what we paid for a particular word or category on a site," but I think some of us in media have to go back and say, "No, this doesn't work." And our industry groups need to take a voice and say, "Hey, look, this is not best practices."
Saunders: I do think there are some shifts that will take place within it. I think programmatic guarantee is interesting, where you can guarantee a price point and leverage data effectively. There's a role for it.
Panousis: Yes, there's a role for it, but I think we've tied our hands. If you're following the consumer, the price point will fluctuate depending on where it goes. Some will be more expensive. And the guarantees tend to favour the [non-premium] side. On the premium side, we have to start to create models that are going to work and add more value.
Saunders: I also think what the valuation process eliminates is the value of context. That requires investment and research.
The Globe and Mail's Day: You can still do that programmatically, but you can do it through programmatic guaranteed. You can do contextual.
Dent: There's still going to be worlds, whether you're putting on a conference, doing branded content, doing co-brands, that's where the premium world for all of us is going to lie.
Panousis: Even email, aren't 85% of emails with CRM not opened? We have them, we've built them, but we've waned on the creative, and now we've seen the results: 85% of the people you've opened the door for aren't crossing the threshold.
Kohler: Nielsen actually did a cascade on the effectiveness on the marketing tools they can track, and email was one of their lowest net incremental returns. You can incent a customer's purchase, but they were probably going to purchase anyway.
[short pause]
Kohler: I just want to do a quick defense of cat videos…
[all laugh]
Kohler: We sell cat litter, so it's done very well for us.
Moore: See? It's all about context!
Panousis: Even looking at what people really watch, taking a real view, that's where you guys [The Globe] have some very interesting data. If you look at it in aggregate, it's probably fascinating.
Saunders: Do you find with context-based buying versus performance-based, does one perform better than the other?
Panousis: I'd say that the industry has said that contextual buying is significantly better. Where I think the difference is, is in the ROI. Accenture said in their study they didn't measure it. They were taking the industry as 'television works,' but they assumed that all buys are the same. Certain niche programs have strong, loyal followings, and the audience during the commercial holding is going to perform higher. And we want to pay less for media than we ever have before. We have hit the bottom. I keep worrying, how are we going to attract people to this industry?
MiC: Before we say good-bye, any last burning statements, anything to get on our chests?
CBC's Kreuk: Be less Canadian. Showcase what we're doing, toot our own horn.
Moore: But maybe think more Canadian.
Panousis: And make Canadian matter more. Show us why.
Saunders (pictured left): The reality is, it's an exciting time. Each platform plays a role, but I think Canadian publishers have to articulate the value they can bring. We have to do a better job. And I would challenge the marketer who has massive influence and power to set the example. I think there's a role for Canadian publishers and broadcasters, and they haven't had their voices heard.
MiC: And what's the biggest problem for broadcast and print to prove that value?
Dent: Almost any study comes across that will tell you media multipliers work, mixing medias works, and you need support at all ends of the funnel. There's consistency in that, and I think we're in good shape. We just have to fight against this slight over-rotation toward global publishers.
Saunders: But I think the industry needs to work collaboratively together.
Panousis: There's a lot of things that the U.S. does that we don't – like commercial ratings. And we need to just rise up and say, 'stop this madness.' Maybe we are just too Canadian.