Why Initiative held its own 'reverse upfront'
Agency president Helen Galanis on empowering media companies to be the experts, the right way to approach data and how to take the disruptors out of the equation.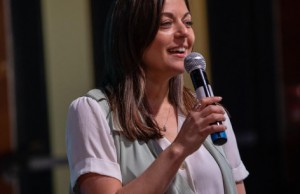 Today will mark the opening day of the U.S. Upfronts, where TV networks parade their star talent in front of marketers and agencies, pulling out all the stops to woo the right spenders to pay to partner up with their content. And, in a few short weeks, Canadian networks will do the same.
But what would an Upfront look like from the other side? What sort of things would an agency do at its own upfront?
Initiative Canada hosted its first-ever Remixing the Upfront event last week as part of an effort to bring together professionals from marketing, media and martech. While the event included typical upfront-style presentations – Initiative showcasing its best work – it also focused on broader industry trends and challenges in the evolving media landscape. The idea came out of Initiative's global office, with the first reverse upfront launching in 2017 in the U.S. Initiative Canada, along with the U.K., is among the first international offices to host a similar event since.
The main target of the presentation was not the advertisers who might go on to buy through Initiative, but rather media and martech solution partners, such as Google, Amazon, Verizon, Twitter, Bell and Cineplex, all of whom were present in the audience. Approximately 150 people attended.
Beyond showcasing its own media partnerships and integrations – such as its branded content integration for Wendy's and Big Brother Canada, and its massive Lego mural – and what it can do with its own clients, Initiative also highlighted a number of global campaigns it admired that didn't come from any of its offices. These cases include French online gaming platform Winamax integrating with one of France's most popular serialized dramas, La forêt, to allow users to bet on who the secret antagonist was, as well as a design campaign from pet food manufacturer Puppo that used the New York City dog registry to personalize its labels with dog names.
Following the presentation, MiC caught up with agency president Helen Galanis (pictured above) on why the agency chose to flip the script, what current challenges media agencies are facing and where the media partners can come in.
MiC: With agencies facing a more fragmented landscape and challenges like in-housing, do you think there's more pressure than ever to have to prove yourselves?
Galanis: Whether it's in-housing or direct access from some of the big digital partners to our clients, there's always a pressure to prove yourself to your clients. For me, there's a million ways that you can point to 'disruption' or 'risk' in our business, and I think the antidote to that is to be an invaluable partner to your clients. Today was about the other side of our partner relationships. We believe that having a good relationship with these [media] partners will allow us to be the best agency partners to our clients. If we do that, then all manner of disruption is avoidable.
MiC: We've written a lot about the Big Brother Canada Wendy's integration, but does it feel a bit limiting when there's not as many Canadian originals to have in-show integration with?
I agree that the opportunities are not always there. But I think that the whole impetus for this upfront is to realize that the partners are respective experts in their own ecosystems. We can share more about our clients' needs and strategies, backgrounds, and we can empower them to bring us solutions to those needs that are immersive and feel integrated. Content integration is one of the many ways we can do that. One of the goals of today was to show examples from outside of our work, because we're inspired by things like the personalized OOH.
MiC: The data from the Puppo case was very interesting. We're always hearing that there's so much data and we don't know what to do with it, but is the Puppo case a demonstration that maybe we need to look to more unconventional sources of data?
The reason we positioned that trend is because it's not about data; that trend was about personalization, and data enabled that. You always need to start with the intention and the idea, and then ask how data can fulfill that or make it better? That is the power of data. We need to stop thinking of it as an end goal in and of itself. It is static and it is meaningless by itself. We think data and we think digital, when in fact there's data everywhere. Media has been using data for years. I think we've undersold that point, and we've become too focused on digital data sources, real-time data use, when there's a myriad of ways we can use data.
MiC: The Lego case was also interesting because you mentioned being limited in how you can target kid audiences. Is there anything other brands can learn from this – that you can still be effective without hyperactive re-targeting?
In general, targeting is powerful, but persuasiveness and scale is also powerful. I think in a world where you can't be explicitly targeted, there's still a lot of media potential. You can still target passion groups. You might not be targeting one-to-one, you might not be targeting on an action. But frankly, those things are just part of a media or marketing strategy. Unless you're in a very acquisition-focused mindset, I don't think you should feel limited.