Raptors post another kind of historic victory
Kawhi Leonard's series-winning shot was, in every sense, peak basketball.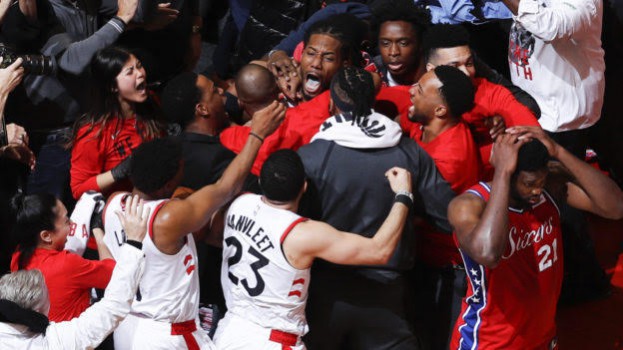 It was the shot heard and seen 'round the world, a moment in television sports that has kept on giving. Every hour, social media has a new GIF, a new reaction, a new stellar courtside photograph.
Now, data from Numeris proves that not only did Kawhi Leonard's series-winning shot galvanize casual and passionate basketball fans alike, but it's also broken a broadcast record.
According to overnight data provided by Rogers Media, a total of 5.8 million Canadians watched at least some point of the Sunday night game between the Raptors and the Philadelphia 76ers. The resulting AMA was 2.2 million viewers, making it Canada's most-watched NBA game ever. The audience peaked at 3.8 million viewers at 9:33 p.m., just as Leonard made that crucial final shot.
With the second series of the Playoffs now concluded, Sportsnet's coverage (which includes games one, three, five and seven) captured an audience of 1.3 million viewers, with a reach of 6.8 million viewers in total.
This marks a 113% year-over-year increase over Sportsnet's coverage of round two last year (although fewer games were played in that series, with the Raptors being shut out by the Cavaliers after four games).
The broadcast schedule of the Raptors' third round (against the Milwaukee Bucks) will be split between Sportsnet and TSN. Starting May 15, Sportsnet wil carry games one, three and six on linear (Sportsnet and Sportsnet One) and OTT (Sportsnet Now) and games one, three, five and seven radio (Sportsnet 590 The Fan).
Bell Media's TSN's TV broadcast coverage will begin May 17 with game two, as well as games four, five and seven. Besides TSN, these games will be viewable on the TSN site and app for subscribers. TSN's flagship radio, 1050, will carry games two, four and six. Games five, six and seven are not guaranteed to air.