Adapt Media makes a large format play in Toronto
The strategic location of Yonge and Gerrard will allow heavy foot traffic, but a "greater share of voice," says Jamie Thompson.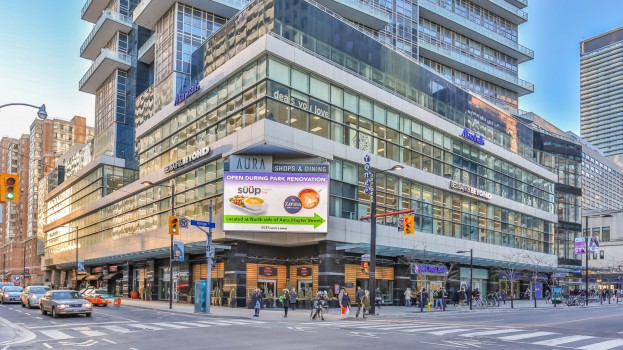 Outdoor and place-based media company Adapt Media has made a big play in downtown Toronto, signing on as the official and exclusive large-format provider for KS Aura Retail, which owns the Aura mixed-use condo and shopping centre on the central Yonge Street strip. An estimated 66,300 people pass through the building daily.
The centrepiece of the deal is a new large-format digital billboard located at the southeast corner of the shopping centre, on the corner of the city's Yonge and Gerrard Streets.
For Adapt Media president Jamie Thompson, the deal represents a new growth stage for Adapt Media. "We started with convenience store advertising, then expanded to street-level ads of all kinds including digital and static, then this year we added the Plaza Premium Lounges in airports. And where we're really trying to grow with that is in digital video. It's everything."
Large format is still fairly new – but not unheard of – for Adapt Media. And Thompson says being this close to Toronto's bustling Yonge and Dundas intersection, while still being a short walk away, gives a good advantage. There's heavy foot traffic, he says, but without the handful of extra-large super boards at Yonge and Dundas, "you get a much greater share of voice, and we're still reaching hundreds of thousands of people."
The plaza itself is home to major advertisers such as Bed Bath and Beyond, a Walmart delivery outpost, various financial institutions and other retail and QSR giants.
Thompson adds that the billboard space can be sold and served programmatically (as well as direct), separating it from some of the other billboards in the area. "Not all large format digital billboards in such lucrative locations are put on programmatic, just on the basis that they're sold out."