Big Bang wins the week again: Numeris
While the CTV comedy captured the nation's attention yet again, Raptors fevers put the NBA Playoffs on the board in Toronto.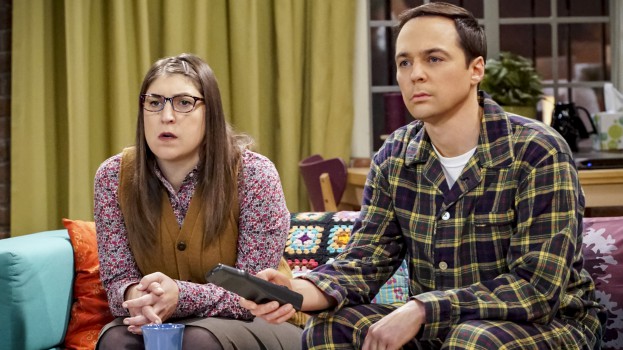 As it neared its finish, the May 9 episode of The Big Bang Theory drew more than 3.8 million viewers, remaining at the top of the Numeris charts, for the week ending May 12.
The CTV comedy was the most-watched show in all but the Francophone market, followed closely by its spinoff, Young Sheldon which raked in 2.43 million viewers. Preliminary results for last week's airing already indicate that The Big Bang Theory drove north of four million average views for its finale; next week's Numeris results will contain the full same-day-plus-seven results.
Rounding out the top-five this week were Global's unscripted reality series Survivor, the long-running NCIS and hospital drama, New Amsterdam.
In the Francophone market Artis, le gala, the annual awards ceremony honouring stars of the small screen saw 1.84 million viewers tune in, with Artis, le tapis rouge, the red carpet pre-show following close behind with 1.35 million viewers. Game show La poule aux oeufs d'or took the third spot with 840,000 viewers.
In the Toronto market, Raptors fever brought in 624,000 viewers for NBA Playoffs as the team took on the Philadelphia 76ers in Game 6 of the conference semifinals.
Canada (Anglophone)
The Big Bang Theory on CTV Thursday at 8 p.m.: 3.8 million viewers
Young Sheldon on CTV Thursday at 8:31 p.m.: 2.43 million viewers
Survivor on Global Wednesday at 8 p.m.: 2.13 million viewers
NCIS on Global Tuesday at 8 p.m.: 1.96 million viewers
New Amsterdam on Global Tuesday at 10 p.m.: viewers 1.95 million viewers
Quebec (Francophone)
Artis, Le gala on TVA Sunday at 8 p.m.: 1.84 million viewers
Artis, Le tapis rouge on TVA Sunday at 7 p.m.: 1.35 million viewers
La poule aux oeufs d'or on TVA Wednesday at 6:59 p.m.: 840,000 viewers
Vlog on TVA Sunday at 6:30 p.m.: 753,000 viewers
Dans l'oeil du dragon on SRC Wednesday at 8 p.m.: 686,000 viewers
Montreal (Anglophone)
The Big Bang Theory on CTV Thursday at 8 p.m.: 131,000 viewers
Law and Order: SVU on CTV Thursday at 10 p.m.: 82,000 viewers
Blue Bloods on CTV on Friday at 10 p.m.: 75,000 viewers
Young Sheldon on CTV Thursday at 8:31 p.m.: 75,000 viewers
Grey's Anatomy on CTV Wednesday at 8 p.m.: 61,000 viewers
Toronto/Hamilton
The Big Bang Theory on CTV Thursday at 8 p.m.: 718,000 viewers
NBA Playoffs on TSN Thursday at 8 p.m.: 624,000 viewers
Survivor on Global Wednesday at 8 p.m.: 555,000 viewers
Young Sheldon on CTV Thursday at 8:31 p.m.: 478,000 viewers
New Amsterdam on Global Tuesday at 10 p.m.: 392,000 viewers
Edmonton
The Big Bang Theory on CTV Thursday at 9 p.m.: 149,000 viewers
Young Sheldon on CTV Thursday at 9:31 p.m.: 95,000 viewers
NCIS on Global Tuesday at 9 p.m.: 87,000 viewers
Survivor on Global Wednesday at 9 p.m.: 80,000 viewers
Bull on Global Monday at 8 p.m. : 72,000 viewers
Calgary
The Big Bang Theory on CTV Thursday at 9 p.m.: 188,000 viewers

9-1-1 on Global Monday at 10 p.m.: 131,000 viewers
Station 19 on CTV Thursday at 10:01 p.m.: 109,000 viewers
Young Sheldon on CTV Thursday at 9:31 p.m.: 107,000 viewers
New Amsterdam on Global Tuesday at 8 p.m.: 106,000 viewers
Vancouver/Victoria
The Big Bang Theory on CTV Thursday at 8 p.m.: 285,000 viewers
Survivor on Global Wednesday at 8 p.m.: 196,000 viewers
Young Sheldon on CTV Thursday at 8:31 p.m.: 191,000 viewers
FBI on Global Tuesday at 9 p.m.: 157,000 viewers
New Amsterdam on Global Tuesday at 10 p.m.: 154,000 viewers