Snapchat plays with a new game strategy
The new Snap Games are supported by Snap's Commercials ad unit and accessible from the messenger side of the platform.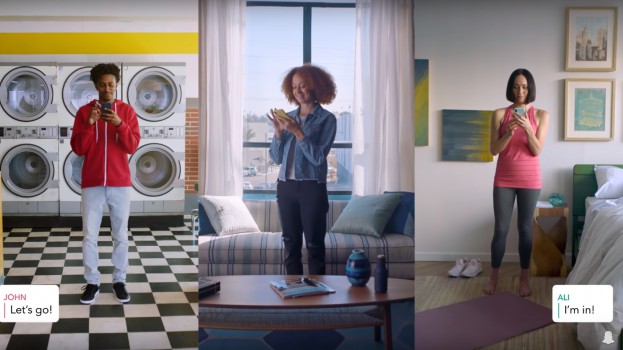 The last three years have seen Snapchat's Story format and photo-based instant messages replicated by other platforms such as Facebook, Instagram and WhatsApp.
Now, the mobile messaging and social platform has introduced a new feature not available on those other platforms: Snap Games.
The new mobile games are designed to be played with friends, opened from the messaging side of the app. Users can chat (via text and voice) with one another during the games.
Of the six titles launched in the U.S., two are available in Canada now (Bitmoji Party and Snake Squad) while a third (Zombie Rescue Squad) will roll out soon, according to a rep for Snapchat, at a date to be determined.
Snap has confirmed that its six-second, non-skippable "commercial" ad units will be available against the games in Canada.
Features to keep users excited and engaged have been key for Snap. The platform has been slower to grow than its competition, although it surprised some analyst expectations with its most recent quarterly report, citing 2% year-over-year growth in daily active users. With 190 million people now using the platform every day, some in the industry have argued that even though Snapchat doesn't need Facebook-level numbers to survive, it needs to prove the value of its advertising product.
Jed Schneiderman, EVP of growth and marketing at EQ Works, told MiC in a previous interview that Snap should feel some pressure to prove efficiency and targeting capabilities.
"They're going to have to demonstrate to advertisers that these ads are effective," he says. "Now that [Snap] has been around for a number of years and the curiosity and novelty of the platform has worn off, I'd argue that [performance marketing] is something they pretty much have to do."
Adding content that can be advertised against into the messaging part of the app may be key for brands to reach the millions of Gen Z users who are engaging with the platform. Lumency VP of content and experiential Cameron Williamson tells MiC that although Snapchat is still used enthusiastically by Gen Z, they are more engaged with the messenger aspect than Snap's more central, ad-supported content.