Spotted! Danone declares a revolution
Like the invention of the wheel or landing on the moon, Danone's new 100% natural yogurt is a game changer, bursting across Dundas Square.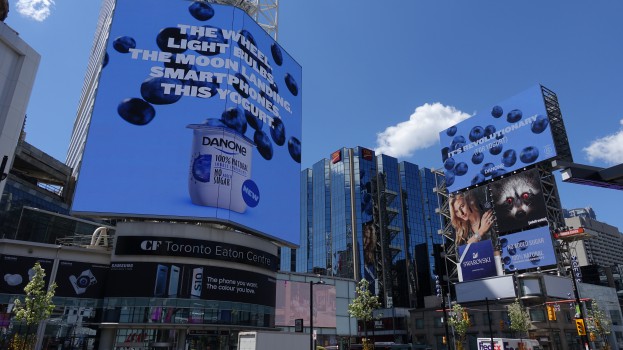 The new campaign for Danone yogurt makes a bold claim in its 'Revolutionary' tagline, but the company wants consumers to know big changes are happening as it launches its first 100% natural line.
For the first time, the Canadian yogurt maker is offering a product with no added sugar or artificial ingredients in its commitment to sustainable agriculture. "The big idea of the full campaign is that it's revolutionary for yogurt," Marie-Eve Girard, marketing director at Danone, tells MiC. The natural brand was inspired by consumers, Girard says, as diets evolve and a focus on eating local gains momentum; it is also the first time the company has personally selected which Canadian dairy farmers to work with. "That was another pillar of the revolution for us," Girard says.
Visually, the "revolution" is exploding over Dundas Square in a series of digital ads where blueberries (the top-selling flavour) burst from the yogurt cup and jump across three screens, in a digital OOH takeover last week.
"We don't want to be too serious about it," Girard says of the playful imagery that compares Danone's new move to other groundbreaking inventions like the wheel, light bulbs, or the smartphone. "We wanted to keep it light and funny."
Working with Wavemaker on media and Taxi on creative, the location was strategically chosen to be captivating, just like Yonge and Dundas is, Girard says, and to catch the eyes of a "younger generation who is on the go."
Additional OOH will be activated throughout June and July and the campaign will splash across social until September. A 30-second TV spot will also run where other flavours – raspberry, peach, mango and cherry – will burst forth across screens. Says Girard: "We wanted to bring the fruit big and bold, because that's the only thing that sweetens the product."