Upfronts '19: CTV announces a dramatic slate of U.S. pickups
Besides gritty dramas like Stumptown and For Life, entertaining picks like Bob Hearts Abishola and The Masked Singer are also coming.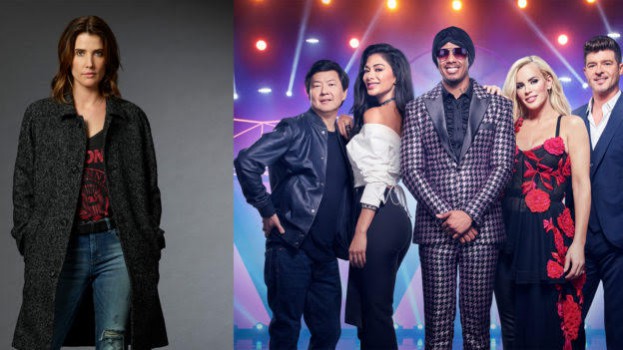 Pictured, left to right: Canadian actor Cobie Smulders, who will star in Stumptown; Cast members from The Masked Singer. 
Bell Media's CTV may have recently bid adieu to its biggest ratings grab – The Big Bang Theory – but its newly revealed slate of fall series is still filled with buzz.
The network unveiled its pickups from the Los Angeles screenings this morning. New shows coming to the network include action drama Stumptown, procedural spinoff 9-1-1: Lone Star and the breakaway reality series The Masked Singer. And, even though CTV and its fans will certainly miss Big Bang it's setting its sights on the new Chuck Lorre sitcom, Bob Hearts Abishola.
Stumptown is based on the graphic novel series of the same name and stars How I Met Your Mother lead Cobie Smulders as army veteran Dex Parios who lives in Portland with a complicated love life, gambling debt and a brother to take care of. The series also stars Tantoo Cardinal (Frontier), Cole Sibus (Spare Room), Adrian Martinez (The Blacklist: Redemption) and more.
The hit procedural 9-1-1, which has been a major ratings hit for Global, will get a spin-off on its rival network. Rob Lowe stars as a sophisticated New York cop who re-locates to Austin and has to balance his duties as a police officer with his personal life.
Legal drama For Life features Nicholas Pinnock as a prisoner who becomes a lawyer, litigating cases for other inmates while fighting to overturn his own life sentence, claiming innocence. Also in the legal vein is All Rise, which covers courtroom drama from the perspective of the judges, prosecutors, public defenders, bailiffs, clerks and cops. It centers around a newly appointed judge who seeks to push boundaries and challenge expectations.
While most of the slate is in the drama and action categories, some pickups deliver a bit of levity; Bob Hearts Abishola is a love-story about a middle-aged businessman from Detroit who falls for his cardiac nurse, a Nigerian immigrant, and devotes his life to winning her over. The series stars Billy Gardell (Mike and Molly) and Folake Olowofoyeku (How to Get Away With Murder). Also on the lighter side of things is the American reality singing competition The Masked Singer, which features celebrities facing off against one another in a singing contest, with the twist being that the celebs are fully disguised in order to conceal their true identity.
Other pickups include: crime thriller Emergence, in which a police chief takes in a young child who has no memory of a mysterious accident; family drama Not Just Me, southern gothic drama/primetime soap Filthy Rich, fact-based thriller NExT, multi-camera family comedy Outmatched (which covers a blue-collar couple raising four kids, three of whom are certified geniuses) and the Ellen DeGeneres-fronted specials Ellen's Greatest Nights of Giveaways.
CTV is highlighting the big-name stars that will come with each series including Nick Cannon, Ken Jeong, Jenny McCarthy, Nicole Sherzinger and Robin Thicke (The Masked Singer), Simons Missick and Marg Helgenberger (All Rise), Jason Biggs (Outmatched), Brittany Snow, Emily Osment and Timothy Hitton (Not Just Me) and more. Besides Lorre, powerhouse producers include Glee's Brad Falchuk and Ryan Murphy on 9-1-1: Lone Star and Curtis "50 Cent" Jackson on For Life.