Upfronts '19: CBC lifts the curtain on 2019/20 roster
Programming GM Sally Catto says between Battle of the Blades and Fridge Wars, there's a lot for sponsors to love.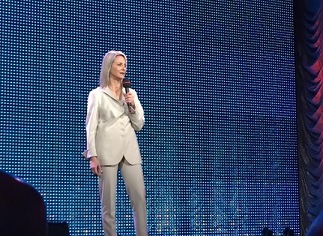 CBC has pulled back the curtain on its 2019/20 project slate, including a trio of new scripted dramas, a raft of new unscripted series and 32 returning series.
Programming GM Sally Catto said at the pubcaster's Upfronts presentation that CBC's challenge is unique from its conventional competitors, who are "competing for the best American simulcasts." She emphasized that this was not a knock at other networks, but specified, "They do a great job, but we're different."
Among CBC's scripted roster is the eight-part, one-hour spy drama Fortunate Son. The show is set in the late 1960s and tells the story of the matriarch of an American activist family who helps smuggle Vietnam war deserters and draft dodgers across the border.
The pubcaster also greenlit The Sounds (8 x 60 minutes), a New Zealand-set thriller taking place on the sleepy settlement of Pelorus Sounds, where "grieving wives, cheating husbands, epic embezzlement and historic crime all collide to weave a complicated web stretching through the Sounds' hidden valleys and deep waters."
Elsewhere, CBC ordered the Sienna Films-produced series The Trickster (6 x 60 minutes). The project is described as a darkly humorous coming-of-age story that is a "mash-up of dysfunctional family drama and supernatural thriller. It follows an Indigenous teenager who is already struggling to keep his family above water when a mysterious stranger arrives in his town and turns his life inside out. The Trickster is adapted from author Eden Robinson's book trilogy Son of a Trickster.
There were also renewals for Diggstown (season two, Circle Blue Entertainment, Freddie Films and DHX Media) and Workin' Moms (season four, Wolf + Rabbit Entertainment).
In March, CBC confirmed that Coroner, Burden of Truth, Frankie Drake Mysteries, Heartland, Still Standing, Schitt's Creek, The Great Canadian Baking Show, Baroness Von Sketch Show and Anne With an E would all return to the 2019/20 schedule. Also joining the 2019/20 schedule is the previously announced half-hour comedy Tallboyz (Accent Entertainment).
Meanwhile, CBC confirmed that a trio of comedies – Cavendish, Little Dog and Crawford – will not be returning. Last month it was confirmed that the rebooted Street Legal had been cancelled after one season. Factual series The Stats of Life will also not return.
There were big moves on the unscripted front too, as CBC greenlit a local adaptation of Family Feud, hosted by Gerry Dee and produced by Zone 3 and Fremantle. CBC ordered 60 half-hour episodes of the format adaptation, with the show set to air four times a week (Tuesday to Friday) at 7:30 p.m. when it premieres this fall.
Changes are afoot at The Great Canadian Baking Show as well, with Baroness Von Sketch Show stars Aurora Brown and Carolyn Taylor replacing Daniel Levy and Julia Chan as hosts for the series' third season.
Also joining CBC's factual roster is Fridge Wars (6 x 60 minutes), an original CBC format. The show sees Canadian families reveal what's in their fridge, before celebrity chefs are pitted against one another to make the best meal possible from the ingredients they find.
Catto described Fridge Wars as ideal for sponsorship and brand integrations. "Given the success of the Great Canadian Baking Show, we saw that our audiences responded well to all things food, so we doubled down this year," she said.
Back in Time for Winter (7 x 60 minutes), High Arctic Haulers (8 x 60 minutes) and You Can't Ask That (8 x 30) were also added to the schedule. The latter, based on the Australian format from ABC Australia, is the first CBC series to use Integrated Described Video.
Those factual titles join Battle of the Blades (6 x 60 minutes), which returns this fall five years after its cancellation. The show will be hosted by Ron MacLean, with Kurt Browning serving as head judge. Tessa Virtue and Scott Moir will also appear as guest judges, while hockey players Sheldon Kennedy and Natalie Spooner and figure skaters Vanessa James and Violetta Afanasieva will also appear in the series.
"We know from experience that audiences and advertisers are crazy about Battle, and that's why you see it back on the schedule," said Catto.
Also on the unscripted docket is the six-part docuseries Enslaved, directed by Canadian filmmaker Simcha Jacobovici (The Naked Archaeologist) and featuring Samuel L. Jackson. The project is a CBC Gem and CBC doc Channel production with Epix in the U.S. It celebrates the 400-year anniversary first African brought to the New World as a slave, and retraces the sea voyage that brought millions to a life of slavery.
CBC also greenlit a new educational digital series, Jensplaining (10 x 12 minutes), that demystifies misconceptions around certain health trends. The series debuts on Gem on Aug. 23, at the same time as season two of How To Buy A Baby.
On the children's content front, CBC revealed that previously announced series Endlings (12 x 30 minutes), Kingdom Force (26 x 22 minutes) and Molly of Denali (38 x 30 minutes) will also join the 2019/20 lineup.
Elsewhere, CBC unveiled a number of international acquisitions, including the Rob Lowe-starring police drama Wild Bill, which will air on CBC Gem and its linear channel. Other international series headed to Gem are German drama Das Boot (8 x 60 minutes), comedy series Documentary Now!, U.K. drama Motherfatherson (8 x 60 minutes) and The Little Drummer Girl (6 x 60 minutes), in addition to season five of Luther and Portlandia (seasons six through eight).
A version of this story appears in Playback.