Spotted! Canadian Tire's hoop dreams
What do you do when a city has basketball fever but lacks the facilities to treat the fever? Two Canadian retail brands took matters into their own hands.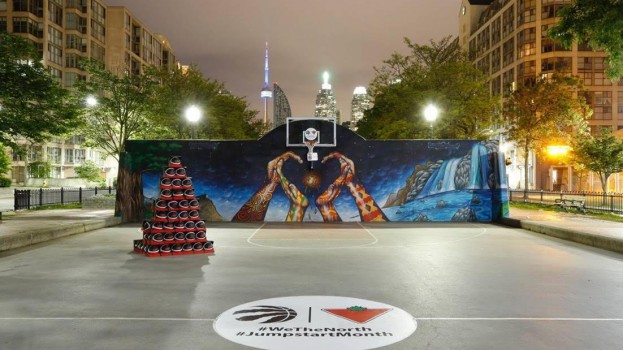 Even amidst a disappointing game-five loss, Toronto has remained optimistic about the Raptors' prospects with a sense of unwavering loyalty and enthusiasm.
With Raptors fever comes a broader-reaching basketball fever; a city once defined largely by hockey dreams is now remembering that young boys and girls want to be more than just the next Mitch Marner. As kids from around the city dribble around on the basketball courts and dream of being the next Kyle, Kawhi or Pascal, what can the grown-ups do to help those dreams come true? The less-than-ideal state of Toronto's basketball courts has been highlighted in local media for years, as many parks have missing nets or hoops.
That's where one brand stepped in. Overnight, prior to the much-anticipated fifth game of the NBA Finals, Canadian Tire secretly replaced basketball nets in a dozen basketball courts in Toronto, in neighbourhoods such as Christie Pits, Dufferin Grove, Moss Park and more. Beyond the nets, the retailer partnered with the city to give two local parks total refreshments – Jack Goodlad Park and Weston Lions Park. In the centre of the court, the iconic #WeTheNorth Raptors messaging was painted, as well as the Canadian Tire logo and the hashtag, "#JumpstartMonth."
June will be used as a month to promote Canadian Tire's Jumpstart program, which helps children of all income levels access sport and recreation programs.
While the effort was largely a play for earned media (with PR managed by Weber Shandwick), there was a small social media buy around the campaign using platforms such as Instagram Stories and Facebook; Canadian Tire and Sport Chek worked with Touché! on the media buy, which served to promote the court makeovers and drive consumers to both Canadian Tire and Sport Chek stores.
The drive-to-store effort also helped drive a goal to pay it forward: eight participating Toronto area Sport Chek stores are giving away 1995 mesh nets in exchange for a Jumpstart donation.