House & Home's new EIC on modern publishing challenges
Emma Reddington is already somewhat of an influencer in the interior design space – and she believes old-fashioned journalism will help House & Home Media stay ahead of the game.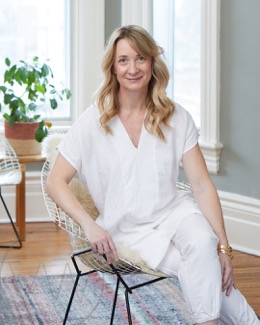 House & Home Media has announced a new editor-in-chief for its flagship publication House & Home, as well as Maison and Demure magazines. Reddington, who comes from an interior design background, entered the publishing world in 2013 when she served as home editor of Chatelaine, and has been at House & Home Media for two years.
Her previous work at H&H Media focused on special interest publications, such as its annual kitchen and bath issues, and the establishment of its Shop House & Home shopping platform.
Within the home decor world, Reddington herself is somewhat of an influencer; she runs the popular Marion House Book blog, and her Pinterest account of the same name boasts 3.7 million followers.
Standing out in a crowded space is something Reddington knows she'll have to do for House & Home as the market becomes increasingly competitive.
"We're now in a marketplace that is much more saturated compared to 10 years ago, so our challenges are like any other magazine in terms of getting our voice heard among a cacophony of other voices," she tells MiC. H&H Media is independently owned, and despite not having the marketing powerhouse of a media giant like TVA or Rogers Media behind it, Reddington says it's still a well-respected voice in the market. According to Vividata's spring 2019 numbers, House & Home's flagship title reaches a combined 2.1 million readers per month across print and digital. The entire House & Home Media ecosystem, which includes the House & Home TV digital video unit, reaches six million per month.
Reddington believes it can – and should – also maintain that reader engagement without letting branded content completely take over. Reddington estimates that 10% of its current magazine space is dedicated to brand content, and there's no intent to up that drastically.
It's not the way everyone in the industry sees it. Branded content has been seen by many as a financial saving grace for print magazines. KO Media, which recently acquired the rights for Elle Canada and Elle Quebec, is likely to increase the branded content in those titles; KO Media's GM and editor Sophie Banford told MiC about branded content, "In 2019, it's just the way we work in the industry. It's part of the job now. As long as we are transparent with readers and as long as there is some end benefit for the readers, ultimately, the result is more content for the readers."
And Jane Francisco, the Canadian industry veteran who left Chatelaine to head up Hearst Magazines' lifestyle group, which includes Good Housekeeping, spoke to MiC in late 2017 specifically about how the rise in branded content had created a fundamental change to the role of a modern EIC, and why she goes on sales calls even as an editor.
"You're out there selling the concept and the idea of being able to co-create content [with brands], but I think part of your job is understanding the wants and the needs of the partners, and really selling the values of the content that the brand creates," she said.
Reddington spent some of her formative years as an editor at Chatelaine under Francisco. And while she has a deep admiration for Francisco and her philosophies, Reddington says the approach of the EIC "selling" the content isn't a one-size-fits-all strategy across publications. House & Home, she says, benefits from having a clearer line drawn in the sand.
"I know that her role while at [Chatelaine] was much more involved on the sales side of the business," says Reddington. "While I think the church-and-state relationship between the editorial and sales side has continued to slide in the modern era of publishing, it is more firmly entrenched here than it was at the Rogers publications."
She does, however, view her role as being a key support to House & Home Media's sales and marketing teams through creating quality content, and "to continue to put out a great magazine that our readers love to return to."