Postmedia campaign uses photojournalism to engage readers
Content will be 'living and breathing' as the news cycle informs chosen images, specific to each community.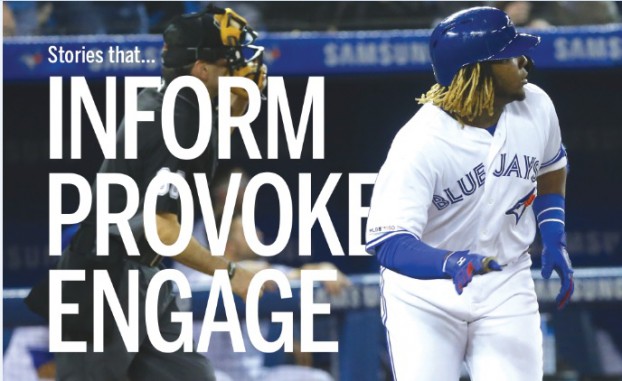 Picking up a Postmedia print product might look a little different in the coming weeks as the company launches a new brand campaign with a focus on photojournalism, as part of a call-to-actions to engage current readers and attract new ones.
"In this roiling landscape of disruption, we always want to remind our audiences why we are there," says SVP of editorial content Lucinda Chodan. "There is something that is very immediate and very visceral about photographs."
Launched Wednesday and running through to the fall, each Postmedia property will feature images "locally selected for their significance, impact and beauty" under the headline, "Inform, Connect, Enlighten" in the broadsheet papers and "Inform, Provoke, Engage" in the Sun editions.
"The headlines do what people expect of those brands," managing director of national marketing for Postmedia, Sandra Zingaro tells MiC.
Zingaro says the plan is for the creative of the campaign to be "ever-changing," rather than set in stone. "[It's] living and breathing and we can constantly feed it based on what is going on," she says.
Editors in local newsroom worked with in-house marketing teams to select the images, cognizant of which images will resonate most with each markets.
The campaign will be supported with print and digital ads across Postmedia properties, including a special collection of curated shots that include the award-winning photo of the hockey sticks memorial that appeared in the StarPhoenix after the 2018 Humboldt bus crash and the construction of the new Champlain Bridge in Montreal.
Postmedia last ran a national brand campaign in 2017 called, Built on Trust. The message then was that the company's newspapers – some 241-years-old like the Montreal Gazette – had established faith in its readership.
"This time around we're saying that we take it on faith that you trust what we do," says Chodan. "And, there's an arresting photograph that has resonance for your life in the communities we share."