Raptors rake in the views for broadcasters, social media, brands
TSN and other networks broke records with Game 6 audiences, while Twitter and other brands have been quick to activate.
On their edge of their seats through another nail biter, a record 7.7 million Canadians watched as the Toronto Raptors stole the NBA championship away from the Golden State Warriors during Game 6, Thursday night.
The overnight average audience of 7.7 million viewers – according to early Numeris data provided by TSN – made Game 6 the most-watched NBA game in Canada and the biggest English-language linear broadcast in three years across TSN, CTV and RDS.
Nearly 16 million Canadian viewers tuned in at some point during the game, almost half the country's population (44%). In the game's final minute, audience's peaked with nearly 10 million viewers watching. Additionally, post-game coverage attracted an average of 6.5 million viewers.
Game 6 goes down in history as Canada's most-watched broadcast of any genre in three years. Of all people watching television Thursday night in Toronto and Hamilton, 82% were watching Game 6, making it the highest audience in that market's history.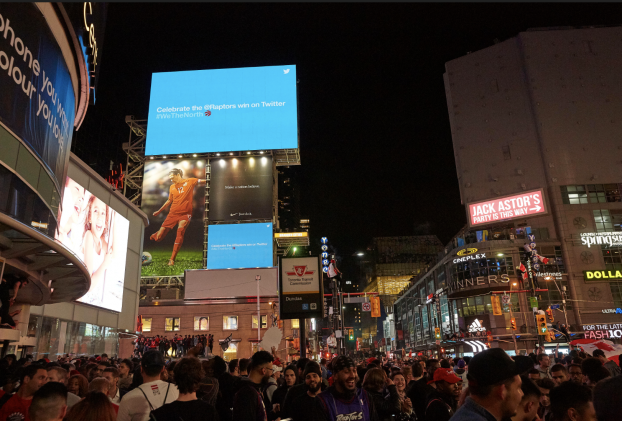 TSN's live streaming coverage attracted 143,000 video starts on TSN.ca and the TSN app, the second-highest total (only behind last year's FIFA World Cup England/Croatia semi-final). Even TSN's social media accounts were buzzing during Game 6 with 4.4 million views on Instagram and 12.5 million views on Twitter.
The night the Raptors clinched the NBA title, Twitter had the most single-day mentions of Toronto in history. Thursday also saw the most #WeTheNorth mentions in history, second only to the Game 6 win against the Milwaukee Bucks that gave the Raptors the Eastern Conference Final on May 25, 2019.
Twitter went live with OOH activations late Thursday in Yonge-Dundas Square, across TTC stations and malls. This follows a host of other brands whose Raptor-based activations got crowds stirring including the spot Tim Hortons did with superfan Nav Bhatia.
Tangerine, which has served as the official bank of the Raptors, continued its heavy presence in Jurassic Park where fans were treated to swag, and some received to sit in the Tangerine suite. It also serves as the presenting sponsor of today's championship parade.
Also activating around the Raps were Unilever brand Axe, which told fans to "chill" in a progressive spin on masculinity in sport (with the help of Kyle Lowry). And earlier this season, Snickers had some fun with a spot kicked off by an Instagram post of Delon Wright in some ill-fitting fashion (using its long-running "You're not you when you're hungry" messaging to create an elaborate prank) in a play on the Raptor account known for its depiction of the team in their designer threads.