Spotted! McDonald's a-door-able activation
The QSR used an OOH ad to trigger a $5 off coupon on Snapchat.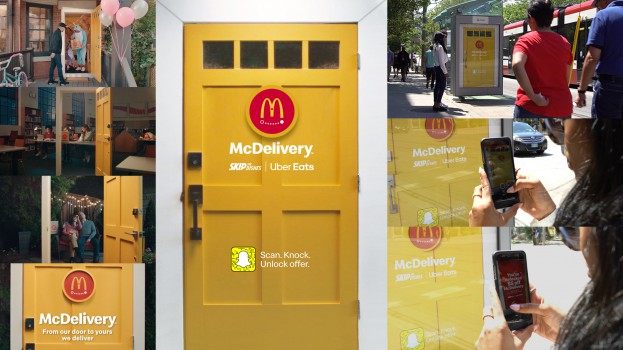 As part of an effort to promote its ever-expanding delivery strategy, McDonald's is investing in a Canadian Snapchat first: the platform's inaugural AR-powered coupon.
The QSR, working with media buying agency OMD (with creative by Cossette), launched a national campaign that went live earlier this week, timed with McDonald's new partnership with meal delivery service SkipTheDishes (it previously, and continues, to also provide delivery through Uber Eats). The goal of the campaign, according to a press release from Cossette, is to show how "McDelivery enhances real moments when you wish you had McDonald's" – and it does so through an interactive AR/OOH ad.
Consumers walking about in Vancouver, Edmonton, Winnipeg, Calgary, Toronto and Halifax may have recently come across a street-level OOH ad featuring a bright yellow door and the McDonald's logo. Using Snapchat, people can scan the door to view a 3D version on their phone, which will unlock an AR experience where they will hear the well-known McDonald's jingle and unlock a $5 off coupon.
Besides the Snapchat AR experience, the media buy includes a TV spot, paid social and digital video.
This marks the first time Snapchat's market tech lens has combined with an OOH ad to create a coupon.
When McDonald's first partnered with Uber Eats to offer delivery in 2017, the QSR also flexed its quirky OOH muscles, creating a special bench throughout participating markets where people could order their meal for delivery as though they were going through an actual drive-thru.