The Raptors rapture continues: Numeris
Games three and four of the NBA Finals drew viewers in every Anglophone market.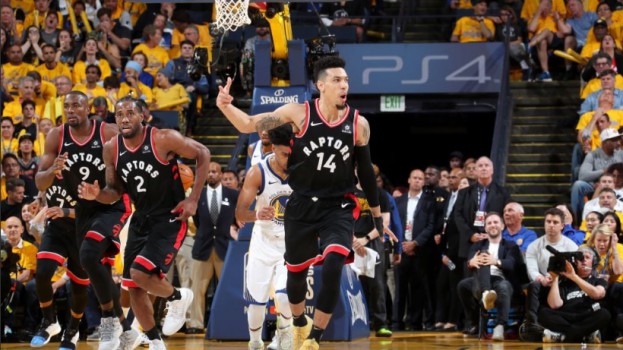 Canadian viewers across the country continued to show their support for the Toronto Raptors as games three and four drew an average of 2.9 and 3.5 million viewers respectively, for the week ending June 9.
Game 4 was the most-watched single-night broadcast in every market except Quebec, where the season nine finale of culinary competition show, Les chefs drew 801,000 viewers.
Unscripted reality series The Amazing Race and Masterchef Canada rounded out the top-five nationally and in the Toronto/Hamilton market, The Amazing Race was the only show to break into a Raptor hold, squeaking into the #5 spot.
Canada (Anglophone)
1. Raptors vs. Warriors on TSN Friday at 9 p.m.: 3.5 million viewers
2. Raptors vs. Warriors on Sportsnet Wednesday National at 9 p.m.: 2.9 million viewers
3. Raptors vs. Warriors on Sportsnet Ontario Wednesday at 9 p.m.: 1.77 million viewers
4. The Amazing Race on CTV Wednesday at 8 p.m.: 1.5 million viewers
5. Masterchef Canada on CTV Monday at 9 p.m.: 1.2 million viewers
Quebec (Francophone)
1. Les chefs on SRC Monday at 8 p.m.: 801,000 viewers
2. Les poules aux oeufs d'or on TVA Wednesday at 7 p.m.: 798,000 viewers
3. Refuge animal on TVA Monday at 7 p.m.: 768,000 viewers
4. La recrue on TVA Wednesday at 8 p.m.: 654,000 viewers
5. Arrive en campagne on TVA Monday at 7:30 p.m.: 654,000 viewers
Montreal (Anglophone)
1. Raptors vs. Warriors on TSN Friday at 9 p.m.: 73,000 viewers
2. America's Got Talent on Citytv Tuesday at 8 p.m.: 61,000 viewers
3. Island of Bryan on HGTV Sunday at 10 p.m.: 50,000 viewers
4. The Amazing Race on CTV Wednesday at 8 p.m.: 44,000 viewers
5. Masterchef Canada on CTV Monday at 9 p.m.: 43,000 viewers

Toronto/Hamilton
1. Raptors vs. Warriors on TSN Friday at 9 p.m.: 1.56 million viewers
2. Raptors vs. Warriors on Sportsnet Ontario Wednesday at 9 p.m.: 1.2 million viewers
3. Raptors vs. Warriors on CTV2 Friday at 9 p.m.: 516,000 viewers
4. Raptors vs. Warriors on Citytv Ontario Wednesday at 9 p.m.: 448,000 viewers
5. The Amazing Race on CTV Wednesday at 8 p.m.: 344,000 viewers

Edmonton
1. Raptors vs. Warriors on TSN Friday at 9 p.m.: 172,000 viewers
2. Raptors vs. Warriors on Sportsnet West Wednesday at 7 p.m.: 106,000 viewers
3. America's Got Talent on Citytv Tuesday at 9 p.m.: 68,000 viewers
4. The Amazing Race on CTV Wednesday at 9 p.m.: 71,000 viewers
5. The Morning Show on Global Saturday at 7 a.m.: 57,000 viewers
Calgary
1. Raptors vs. Warriors on TSN Friday at 9 p.m.: 163,000 viewers
2. Raptors vs. Warriors on Sportsnet West Wednesday at 7 p.m.: 74,000 viewers
3. Blood and Treasure on Global Tuesday at 8 p.m.: 69,000 viewers
4. Island of Bryan on HGTV Sunday at 10 p.m.: 65,000 viewers
5. Private Eyes on Global Wednesday at 10 p.m.: 64,000 viewers
Vancouver/Victoria
1. Raptors vs. Warriors on TSN Friday at 9 p.m.: 237,000 viewers
2. Raptors vs. Warriors on Sportsnet Wednesday at 6 p.m.: 164,000 viewers
3. Raptors vs. Warriors on CTV2 Vancouver Friday at 6 p.m.: 158,000 viewers
4. America's Got Talent  on Citytv Tuesday at 8 p.m.: 148,000 viewers
5. The Amazing Race on CTV Wednesday at 8 p.m.: 123,000 viewers