Upfronts '19: Blue Ant partners with Xumo, Diply and more
As linear grows, the multimedia company wants to ensure it's growing its digital footprint sustainably.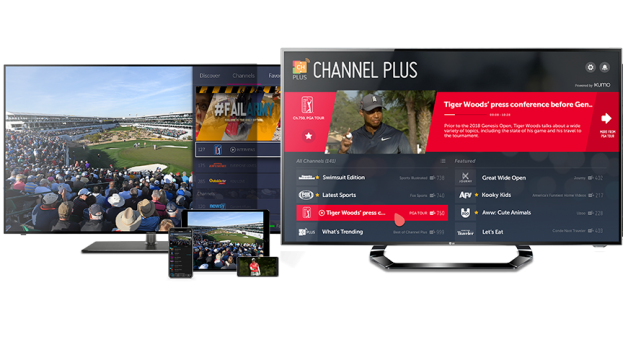 Blue Ant Media spared no jokes or jabs about the fact that, some two weeks after most of Canada's Fall TV Upfronts concluded, it was giving the advertising community one more Upfront – but it was closing out the season with a bang (or, a few dozen bangs). Accompanied by a raucous performance from the 6ix Stix, the official drum band of the Toronto Raptors, the multimedia company introduced not only its fall and midseason TV lineups, but also a series of new partnerships meant to bolster its digital reach.
The first partnership announced gave Blue Ant a big move in the free, AVOD (ad-supported VOD) space through a new agreement with Xumo.
California-based Xumo offers a range of TV content delivered through connected TV devices such as Apple TV and Roku, and is pre-loaded on major smart TV brands. It includes channels such as U.S.-based comedy networks CollegeHumor and FailArmy, as well as Canadian channels such as CBC News.
Through the new partnership, Blue Ant Media will represent Xumo's impressions in Canada. While Blue Ant would not specify Xumo's monthly Canadian viewership, Canadian media president Jamie Schouela says there's potential for Xumo and other similar AVOD channels, which carry movies and TV shows (unlike platforms like YouTube, which specialize in user-generated content), especially as the online paid TV market becomes more saturated amidst the arrival of newer players like CBS All Access and Corus' StackTV.
"As more folks are watching the big international streaming giants out there, the SVOD space is a place that advertisers don't have access to," Schouela tells MiC. "There's a limit to how many of those services the average consumer wants to buy. They might have one of the big ones, a niche streamer or a sports streamer, but beyond that, they're going to want some additional content in the AVOD space."
Schouela describes Xumo's content as premium and brand-safe, with a "very manageable ad-load" which is non-skippable. "It's not overwhelming, and it can be very targeted."
Blue Ant is still focused on growing its presence on linear TV, says Mitch Dent, SVP of media sales and managing director of Blue Ant Plus. The company says AMA for its linear channels is up 17%, according to Numeris, although it did not provide specific AMA figures.
But keeping things diverse is the key to a sustainable media future, says Dent. "There's a segment of the [linear] audience that is not going to stay there and it's going to the app-based services. We have to grow all of our footprints – digital, AVOD and linear."
Blue Ant has also made a major update to its online ad representation business. It's signed on to represent sales for female-focused, millennial-targeted news and entertainment site Diply. The site reaches more than one million Canadian viewers on a monthly business, with five billion monthly video views through Facebook. Blue Ant will handle sales for Diply's Canadian audience. On the science and tech side, it's partnered with Canadian site MobileSyrup for representation. MobileSyrup, a niche site which provides tech business news and reviews of tech such as smartphones, sees just under one million unique monthly visitors.
This brings Blue Ant's total representation to 200 websites across various categories, including 40 in French Canada and 80 in the gaming space.
Despite the growing number of properties Blue Ant either owns or represents, the company is increasingly focused on defining its network into four key pillars – outdoor lifestyle, science and technology, women's lifestyle and gaming.
"We've never tried to be all things to all people," says Schouela. "Our channels are very distinct, and that way, we've been able to focus on growing our distribution."
Dent says the company's growth position puts it in more "on the offensive." Arguably, he says, "Some of the major channels out there have seen declines in audiences and they're looking at defensive strategies. We're in an unusual situation seeing growth across the board, so it's about keeping that sustainable."