Spotted! An outdoor Transition between work and play
Office dwellers were invited to get outside in a bid try on eyewear that combats UV rays and eyestrain from blue light.
We've all been there: stuck in a stuffy boardroom cruelly lined with windows as the sun streams in, gazing longingly at the bustling activity just outside the door. Transitions, a company that allows those with glasses to seamlessly adapt to indoor and outdoor light, found a way to soak up the sun and get the work done with the Sun Sessions Boardroom.
"We wanted to get people out from under fluorescent bulbs and into the sunlight," Isabelle Tremblay-Dawson, business development director for Transitions, says of the outdoor pop-up boardroom spotted last week at the Royal Bank Plaza on Bay Street.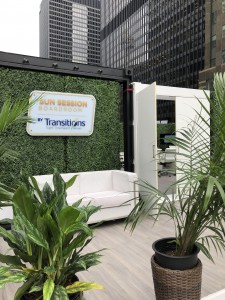 The company used the experiential activation to take aim at "on-the-move millennials," loyal to the brand. "People are happier, more creative and more productive when they're closer to nature," Tremblay-Dawson says. "We also [understand] that young professionals are busy and won't stop working just because the sun is out."
Businesses were encouraged to book one-hour blocks of time in the Boardroom to conduct meetings in the great outdoors (of Toronto). With seating for 12, a wall-mounted TV and wi-fi surrounded by greenery, the company also made available Transitions Lenses to try on, to drive home the brand's message that its products offer protection from UV rays, but also the eyestrain and blue light from screens and devices.
And, the whole idea was "incredibly well received," says Tremblay-Dawson, with 97% of the time slots booked before it opened. The Sun Sessions Boardroom was initially planned just for Toronto but guests have expressed interest to have it available for use all summer. Transitions – who worked with Weber Shandwick on the agency side and Who Gets It Done on the production side – is now considering further potential activations.