ICYMI: Rogers Cup turns 40, CBC unveils new Ideas host
Plus, Twitter installs disclaimer function for politicians' Tweets and Lisa LaFlamme named to the Order of Canada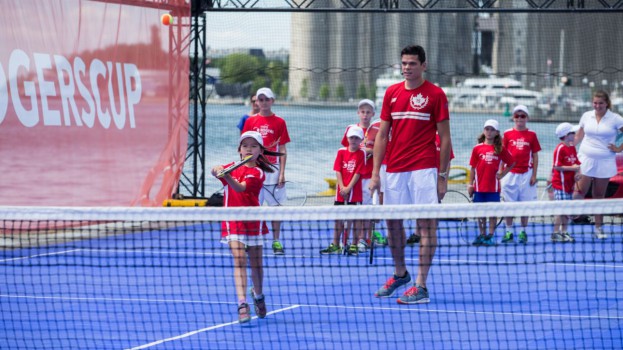 Rogers Cup returns to Montreal
National Bank and BMW will help mark the 40th anniversary of the Rogers Cup when it returns to Montreal, Aug. 2 to 11. Along with some of the tournament's returning features, it's bringing back sponsors including IGA, who will host a family weekend during the event, hockey equipment brand Knapper, back with a ball hockey challenge and Recyc-Québec, whose sustainable development plan for the tournament includes a free round-trip on STM transit.
CBC foreign correspondent comes home to radio
Things continue to shift at CBC as foreign correspondent Nahlah Ayed is named host of Ideas, the nightly CBC Radio show that has been on the airwaves for more than five decades. Ayed, who starts her new gig in September, takes over from Paul Kennedy, who will retire at the end of this season. Ayed is an award-winning journalist who has been with the CBC since 2002. In 2012, her memoir, A Thousand Farewells: A Reporter's Journey from Refugee Camp to the Arab Spring was a finalist for the Governor General's Literary Awards.
Twitter introduces new disclaimer feature for politicians
A notice blocking Tweets from view will require users of the social media platform to make an additional click to access posts from politicians and other world leaders. The disclaimer will only apply to government officials, those running for public office or waiting to be appointed who have more than 100,000 followers and are verified. The Tweets, selected by members of Twitter's trust and safety, legal and public policy teams will feature less prominently on Twitter and be exempted from safe searches, live events pages, notifications tab, explore function, recommended tweet suggestions and timelines set to "top Tweets."
CTV's Lisa LaFlamme named to the Order of Canada
Longtime CTV News broadcast anchor and senior editor Lisa LaFlamme has been named Officer of the Order of Canada. LaFlamme, chief news anchor since 2011 and with CTV for more than 30 years, was recognized for her contributions to journalism and news broadcasting as well as her work promoting human rights. Wendy Freeman, president of CTV News called LaFlamme a "trailblazer for women in Canadian news broadcasting." LaFlamme has traveled the world on missions for Journalists for Human Rights, most notably to the Democratic Republic of Congo to mentor young journalists in Goma. She is also an ambassador of Plan International and volunteers with Canadian Women for Women in Afghanistan.