Spotted: Aperol pops up to spritz Queen West
The month-long pop-up bar brings a little Italian aperitivo culture to Toronto, following the increasing popularity of the Aperol Spritz.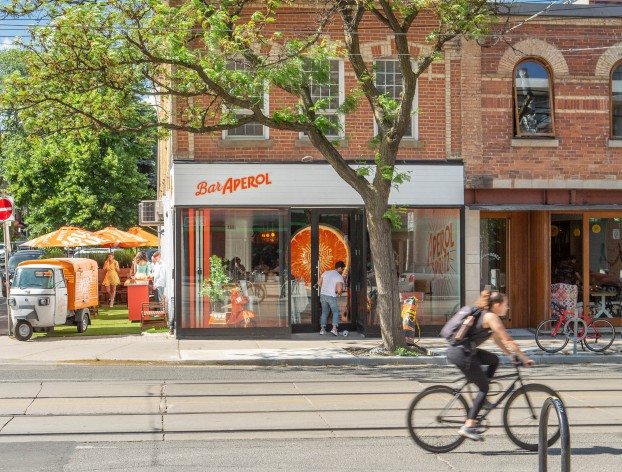 If you've got Instagram, chances are you are familiar with the orange-hued, sparkling drink of Italy, the Aperol Spritz.
With its origins in Venice dating back more than 15 years, the cocktail has been gaining in popularity, says Priya Shah, brand manager for the Italian portfolio at Campari. "People consumed it in a different way, 40 or 50 years ago," Shah says of the spirit, now most commonly mixed with Prosecco and a splash of soda. "The spritz is definitely a more recent cocktail."
And, the 100-year-old brand – bought by Campari in 2003 – is capitalizing on its new concoction with a month-long pop-up, Bar Aperol.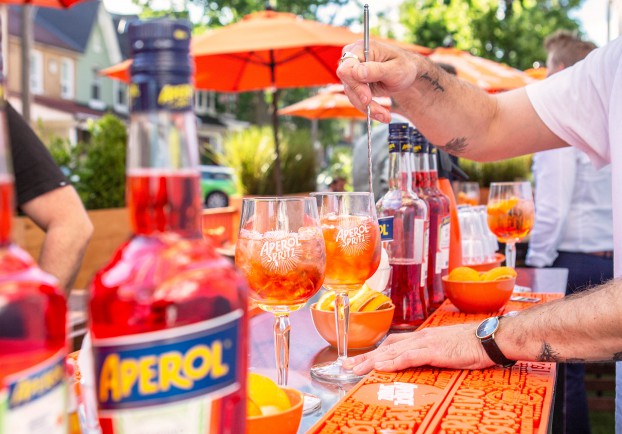 At the corner of Queen West where Brookfield turns into Gordon Bell Road, Bar Aperol looks, in some ways, like it's always been a part of the landscape. As the neighbourhood becomes increasingly popular to people both in and outside the city, Shah says the location was ripe, made more fitting by the patio that runs north alongside the building. "We really did want that street appeal because that orange colour is so magnetic," she says.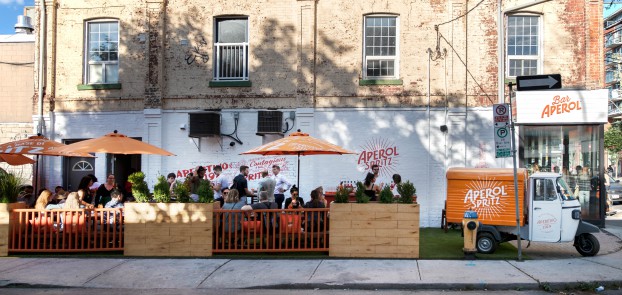 Until July 28, patrons are invited to spot the orange umbrellas dotting the avenue, and visit the pop-up serving the Aperol Spritz exclusively, save for Crodino, a non-alcoholic version. A food menu designed specifically for the venue includes charcuterie curated by the Cheese Boutique, along with espresso from Lavazza and a selection of Italian sweets (yes, including cannoli).
"We wanted to bring back the Italian aperitivo culture," says Shah. "It's very nostalgic. To be able to create an environment and be able to share that with Canadians here was important to us."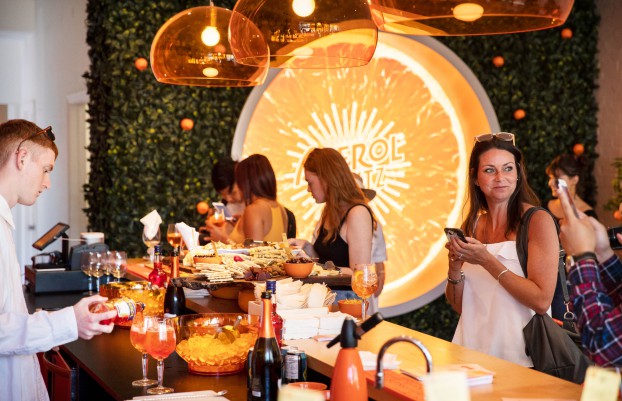 So, is Bar Aperol the kind of place for those who Instagram every drink and meal they find themselves in front of? Not really, says Shah, pointing out the target for Aperol is the most broad of all the company's products. She considers the drink "approachable" because "it's not too sweet, not too strong, not too bitter." And, with a low alcohol content it makes for just as satisfying a happy hour beverage as it does a brunch cocktail, she adds.
While there are contentious debates on the recipe, Shah sets the record straight, serving up the official ratio Bar Aperol bartenders will be using. The failsafe, as she calls it, is equal parts Aperol to Prosecco with a splash of soda in a traditional wine glass, topped with an orange slice. "The ratio is the key to the perfect spritz," she says, adding, "no straw, but give it a stir."