Turkey Farmers go digital in first national campaign since 2004
The group will also embark on a TV buy this fall.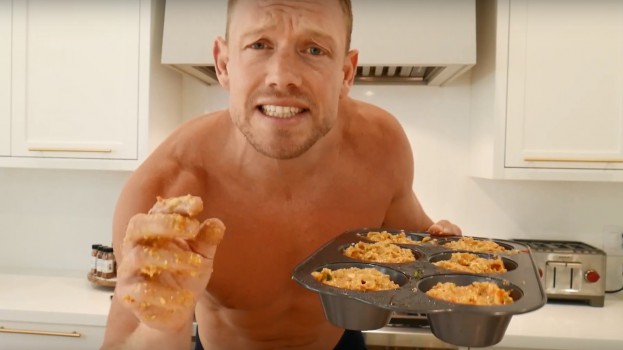 The Turkey Farmers of Canada wants Canadians to know that turkey isn't back – it never went anywhere at all.
But the "other white meat" has indeed gotten a bit of a makeover. It's embraced social media, and even starred in a web series detailing its workout routine.
That's all part of a major paid media push by the Turkey Farmers of Canada, as part of an effort to promote turkey as an alternative to its main competitor, chicken. The campaign launched into market in late May, with the latest part of the roll-out being a web series hosted by fitness YouTuber and former professional rugby player Phil Mackenzie. In Body by Turkey, which went live July 3, Mackenzie details both workout ideas and corresponding turkey recipes – for example, in his "full body workout" video, Mackenzie caps his sweat session off with a recipe for ground turkey meatloaf muffins. In the upcoming "leg day" video, he'll share lower body workouts along with a turkey leg recipe.
The YouTube and influencer component is the second stage of the "Think Turkey" campaign that began in the spring – part of an effort to get Canadians making more turkey choices. The first stage involved short digital spots as well as OOH buys in six major markets.
It's the Turkey Farmers' first national paid media campaign since 2004, with the group largely focusing on PR and earned media over the last decade. But just as dietary and health trends have changed drastically, so has the media landscape. "We are certainly in the height of the Digital age, which obviously works for the demographic that we're attracting," says Janice Height, director of national marketing campaign and brand partnerships for Turkey Farmers of Canada.
That demo is the segment identified as "primary meal planners" within families – typically women 25 to 54. And while Height says it's using influencers and social channels for specific targeting – including for French speakers and Asian-Canadian populations on the West Coast – it's still a broad enough demographic that it's going for mass media as well. In the fall, a TV buy will kick off, and extend until the holiday season.
"We're trying to drive more occasions for turkey and expand everyone's imagination," says Height. "Turkey can be substituted for everything – if you're making meatballs, make them out of turkey."
The media buy was led by True Media, which won the account through a partnered pitch with the Turkey Farmers' PR shop, Zeno Group.
The Turkey Farmers aren't the only advertiser trying to get Canada back on the bird. Also this spring, Butterball Canada launched a national custom content program to help market turkey to a younger and more diverse demographic through a partnership with Bell Media.